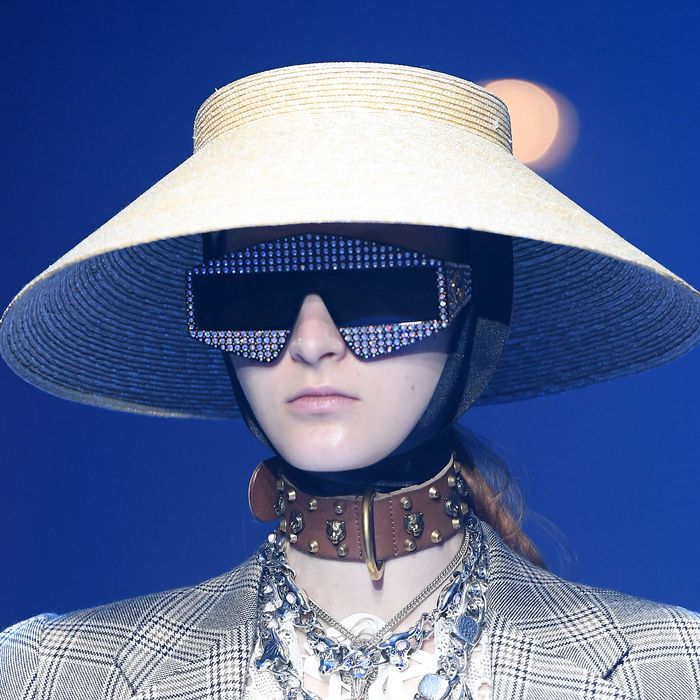 Gucci Spring 2018.
Photo: Venturelli/WireImage/Getty
It's Fashion Month and you're feeling sleepy … very sleepy. Now you're in Milan after going to Tommy Hilfiger's "rock circus" in London. When you arrive at your hotel room, you find a tiny tin box filled with candles, matches, and scent-infused papers. It's an invitation to the Gucci spring 2018 "Hypnotism" fashion show. You're about to be Guccified.
When you arrive, you're greeted by a makeshift sculpture-garden filled with ancient ruins from Aztec to Egypt including busts, goddesses, mummies, sphinxes, and fallen columns.
"The act of creation as an act of resistance," you're told.
You find your way to your seat. Camus, Deleuze, and Heidegger quotes are thrown at you in the show notes. "This collection embodies this exercise of resistance," you read. "Each garment vibrates with an intellectual tension that resists homologation. A revolt against the fixedness and for an inalienable right to difference."
"Resist," you're told, again. "Resist, hard."
You look up and see Dakota Johnson, A$AP Rocky, Claudia Schiffer, Hari Nef, Petra Collins, Soko, the Chinese singer Chris Lee, and the "Japanese Beyoncé," Naomi Watanabe. Everyone is wearing Gucci. No, you're not dreaming.
You also see Dapper Dan, the man whose coat Gucci designer Alessandro Michele was accused of copying in his cruise 2018 show. Again, not dreaming — they're collaborating now. You check your phone. The Instagram account @diet_prada, known for calling out clothing copies (even Gucci) is also taking over the brand's Instagram. What is real, you wonder?
The lights go down and strobe lights flash. Seizure warning. Violins play over techno music. You lose all sense of time and place. Models with Farrah Fawcett bangs, buzz cuts, and sequin head-coverings parade a collection inspired by every decade, culture, and subculture. Ties are tucked in to short shorts; tribal animal tusk necklaces are worn over suits; Asian-inspired straw hats are paired with chokers and David Bowie sunglasses. You see an Evel Knievel jumpsuit followed by the Duke of Devonshire's "Never Marry a Mitford" sweater. Then pieces from Sir. Elton John's archives. Is that a bedazzled Darth Vader helmet? Hello, Bugs Bunny. Where are we?
And then, suddenly it's over. The lights go up and you're snapped out of it. Back to reality. Oh, wait! You still have those candles in your room …