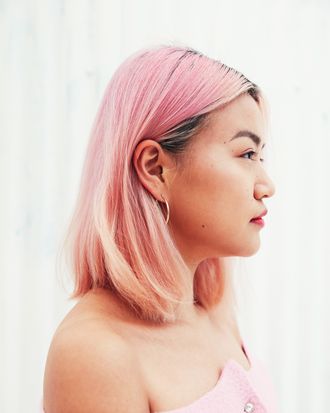 Photo: Katie Thompson. Photo Editor: Biel Parklee.
Before cutting their hair, many women conduct research, collect inspirational images, and then waver for a while, but not Mary Wang. She just went straight to her boyfriend: a man who had never done the deed before. The weekend culture editor at Vogue.com trusted him, and the payoff was worth it (so were the savings). Here, Wang describes the mask she uses to keep her pink hair bright and the Japanese salon she frequents in Brooklyn.
In my shower you'll find: Viral pastel pink shampoo (to add a bit of pink color with every wash) and Nigelle AX hair mask for colored hair, which I bought from my Japanese hairdresser.
I wash my hair every: Week, though that's only after I started bleaching my hair. Before, I washed it every other day.
A rundown of my hair regimen: I wash it with pink shampoo, though I'm never patient enough to divide it evenly, so after every wash I basically end up with unintentionally tie-dyed hair. I also try to let my hair mask soak for as long as I can stay in the shower without getting bored. I use a hair oil every few days to moisturize the ends. I naturally have straight, Asian hair, so I'm not used to having a 'hair regimen', or even brushing it at all. Now my hair has been bleached so many times, but I'm still trying to do the minimum that I can get away with.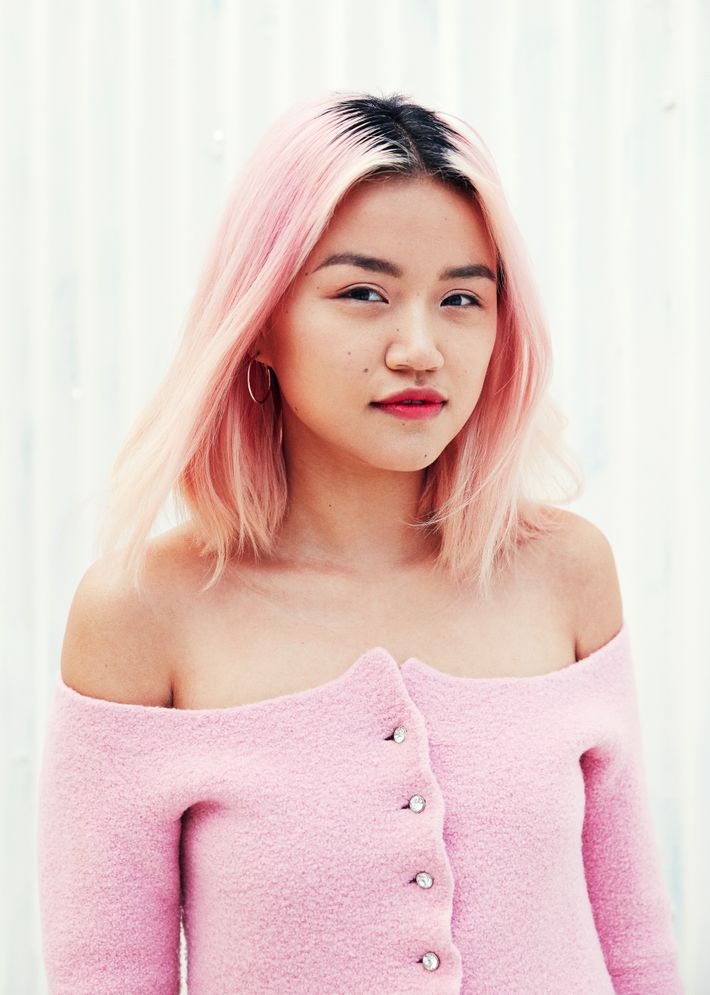 The worst thing I ever did to my hair: Let it grow long so I could hide behind it!
The best thing I ever did to my hair: I used to have long black hair that reached below my waist. I wanted to cut it short, but didn't want to have this emotional moment in an anonymous hair salon. So I bunched it in one thick braid and asked my boyfriend to chop it off in one go. That, and him washing the stray bits of hair off of me afterwards, was one of the most intimate moments of my life. He cut my hair every single time ever since, until I started bleaching my hair. It might be important to mention that my boyfriend has zero experience cutting or styling hair.
How often I trim: Every few months or so, or whenever it starts to annoy me.
My hairstylist is: I go to Shizen in Brooklyn for coloring. They're so attentive and detailed: they even cover your ears with miniature shower caps to protect them from bleach!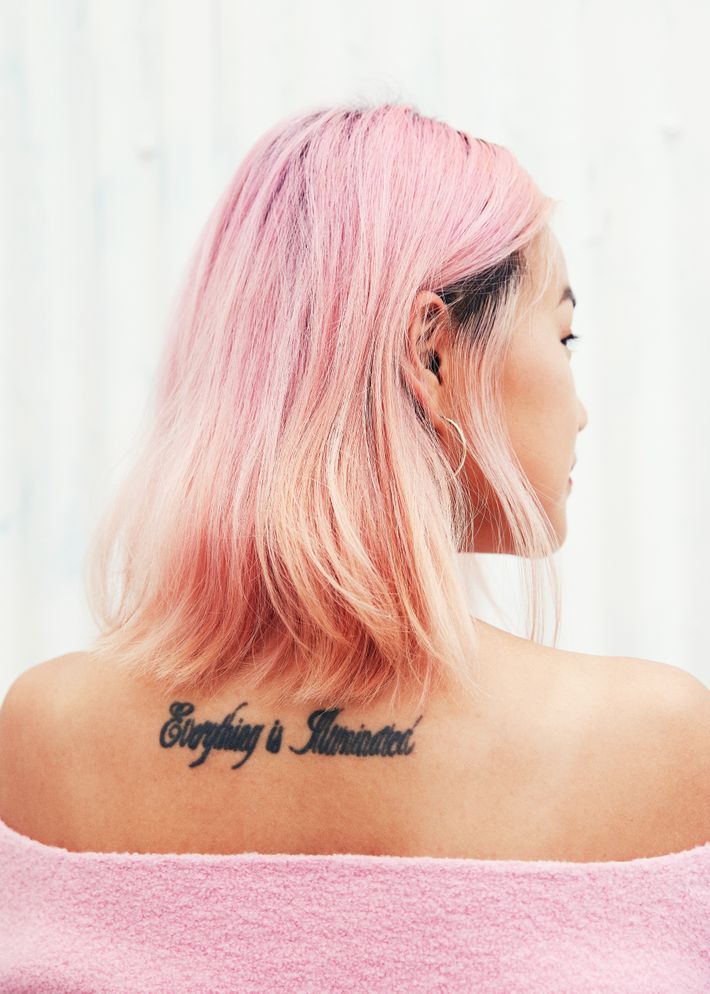 The most important thing people with hair like me should know: Getting pink hair means learning to live with uncertainty. It never maintains a stable shade, ever. The color starts to fade basically as soon as you step out of the salon. After that, it's a constant struggle of adding in pigment yourself and hoping it turns out right.
Check all that apply – my hair is dyed, is chemically straightened, is permed, has extensions, is braided/in locs: My hair is dyed.
What I love most about my hair: No matter what you do to fuck it up, it always grows back. It's so resilient!
If you buy something through our links, New York may earn an affiliate commission.
Production Credits:
Photos by Katie Thompson
Hair by Lucas Wilson using Bumble and Bumble
Makeup by Eric Vosburg
Produced by Biel Parklee
Hair Assistant: Sergio Estrada
Makeup Assistant: David Rivera