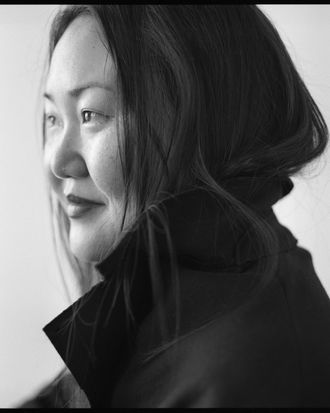 "My writing life and my editing life are very separate," says Hanya Yanagihara, T magazine's editor-in-chief and author of the Man Booker- and National Book Award-nominated book A Little Life. "One I consider very private and the other one is asking for entrée into other people's worlds. You're asking to see their homes, you're asking to see their art, and you're asking to see their clothes … "
After Yanagihara's 2015 book became a word-of-mouth, sob-inducing hit, and she was appointed to the top office of one of the top magazines in the world, it seems fair to say that she's a master of both realms. She's whip-smart and extremely incisive, though lacking in any pretense, even when talking about her success. "It's a different kind of humility being a magazine editor than being a writer, where you just sit and create whatever you want without any interruption," she says. Of her book's reception, she adds, "For any author, it is the most profound honor of your life to have people who read it closely and seriously, and find that it moves them, and then reach out to tell you."
Like many writers, Yanagihara herself has always sought that kind of connection through books; her love of reading dates back to early childhood. "My father would take us to rare bookstores when we were living in Baltimore or when we lived in New York, he took us to the Strand every weekend. I would get to pick out one book and I'd have to write inside the book why I wanted it," Yangihara remembers. Even then, her literary standards were high: Mysteries and Sweet Valley High fare were verboten. "My parents just had very particular ideas about what was good children's literature and what wasn't," she says.
Though she spent many of her formative years in Hawaii, Yanagihara moved around a lot as a child, a fact she credits with informing her writing, "Whenever you're a kid and you move, you have to become a quick study," she says. "You become very good at observing and figuring out how to infiltrate whatever crowd you've been dropped into." She was beguiled by the idea of reinventing herself each time she was uprooted. (Generally, she says, as "a cooler version of myself.") What she found instead was that wherever she went, there she was.
"There's always this fantasy that you'll be able to go somewhere and recreate yourself. But it's typically not true," she says. "What moving reveals is that it makes you more and more yourself and less and less able to change into somebody else. The context changes so much that you really have to figure quite early on who you are and also who other people are. In that way, for a writer, it's priceless."
Yanagihara moved to New York after college and worked in book publishing before shifting to magazines. She was editor-at-large for Condé Nast Traveler, then did a stint as Deputy Editor of T from 2015-2016 and published A Little Life in March of 2015 before taking a long-desired gap year. Readers were by then obsessed with her, starving for any and all information on the backstory of the woman behind the 720-page book that brought pretty much everyone who read it to tears. This past April, there was another reinvention of sorts: She took the helm at T.
"This really was the only editor-in-chief job I'd ever wanted," Yanagahira says. "The great thing about this magazine is that you're not held captive by a lot of the rules that govern magazine-making these days — you don't have to play in the celebrity sandbox unless you really want to," speaking to T's unique position in the glossies pantheon. "This magazine, at its best, I think is a little strange, and a little off-center, and it does things sometimes for no reason. That sort of eccentricity is something I always loved and something that I hope I can bring more of."
Below, Yanagihara speaks to the Cut about her own eccentricities, including going heavy on fragrances, lurking on feline Instagram, and listening exclusively to hula music. Read on for the full Q&A.
How do you thank someone for a gift?
I very rarely get gifts. I love buying them and no one ever really gives me any. When people do, if they are New York-based, I either get them a flower arrangement from Emily Thompson or from Brrch; or I get packets or canisters of tea from Bellocq, which is great because they're so beautiful and they ship anywhere in the states.
Color or no color on your nails?
I never have a manicure because I tend to chip them easily. On my toes I wear Chanel Nouvelle Vague. It's almost a jade-like blue.
Mood lighting or natural light? 
Natural.
What are some coffee-table books that you would be proud to display?
I have art books and coffee-table books at home, but I just integrate them into the bookcase. I don't really believe in displaying books as decoration. I don't refer to them much, but I always look at Colors, Tibor Kalman's magazine for Benetton, for inspiration, but beyond that, I have a lot of books of Japanese art and Japanese photography. I love the photographer Shomei Tomatsu.
Heels or flats?
Flats, just because I have such bad feet. Lately, I've realized that I can wear Isabel Marant heels, so I've been wearing those. I do always buy a couple of those Maryam Nassir Zadeh suede block heels that everyone has every season. They travel well because they're lightweight.
What would you never wear?
Anything strapless. I would never wear a tube top, I would never wear a strapless dress. It's just a horrible look on me.
What's your favorite song on your playlist right now?
I have very bad taste in music. I only really listen to Hawaiian music, actually. My father listened to a lot of opera, but the rest of the family listened to Hawaiian music and the entire family either played it or sung it. That is the music that I listen to when I'm at the gym or walking around. It is the only music that can really make me feel, that really can make me almost get teary. I love an artist named Kekuhi Kanahele, and a group called the Ho'opi'i Brothers. They just have these extraordinary voices.
If you were a car, what kind of car would you be?
I don't know how to drive so it really makes no difference at all to me. I really don't care what it's like as long as it means I don't have to take the subway and that someone is picking me up.
No makeup-makeup, makeup, or actually no makeup?
None, except for lipstick. I either wear Chanel or Tom Ford and it's some variation of red, typically, that I blot on with a fingertip so it's not too dark. I will put almost anything on my face in terms of serums, lotions, potions. I really like the Chanel Hydra line because I sweat a lot and it's very lightweight. In the winter I always wear Aesop's Fabulous Face Oil or Rose face oil.
What's your dream vacation?
I would love to go to Ethiopia and tour the Coptic churches in Lalibela, and I would also love to go to Iran. I feel that I keep missing my window. I would love to go to Mongolia to see the Golden Eagle Festival. People there train eagles to hunt, and it's a several-day festival in which they're on their horses and they race their eagles to see who can catch small game fastest.
What other decade would you like to live in, and why?
I always think this is a difficult question to answer without knowing what gender are you? What race are you? Are you rich? Are you healthy? Are you educated? Assuming that I were going to be another figure from history, I would like to be Empress Dowager Cixi, who was born at the end of the Qing Dynasty. She was the mother to the last emperor of China. In her later years she became a great reformer and she was probably much savvier and much more cunning than people have given her credit for. Beyond that, I don't think I'd necessarily want to be a woman in any other era — not that it's always so great now, but it's greater than what's come before.
What's one way your style has changed since your teen years and one way it's stayed the same?
When I was a teenager, I always loved color and I sort of gravitated towards gimmicky and funny clothes. The appeal of those sorts of clothes hasn't changed, but I've learned how to resist them.
What is your guilty pleasure?
Jewelry shopping. I have my eye on a lot of things at any time, and this in fact is what most of the saved images on my Instagram feed are: different cats that I'd like and different pieces of jewelry that I'd like. I was in Jaipur this year and my friend Siddharth Kasliwal is one of the owners of Gem Palace. Whenever I see him, I end up buying stuff. Towards the end of my trip with him, he was saying, 'You know what? As your friend I think I have to put a stop to this.' It's bad news when your friend who cuts you off is a jeweler.
What's the last show you've binge watched?
The last season of Veep, which I love, and also I recently watched The Handmaid's Tale.
What are your favorite accounts to follow on Instagram?
I have a relatively small list of people I follow, but I spend a lot of my time lurking on other people's feeds. The way that I try to self-soothe is looking at pictures of cats. I just type 'British short hair' or 'Scottish fold' into the tags. I really wish I could have one and I just can't for various reasons. That is one of the great joys of Instagram. One is called @dora_me0416. I don't follow her because I just feel that once I start following cat feeds I kind of have gone to a different level and I can't let myself do that, but I spend a lot of time lurking. I'm also on Irene Neuwirth's feed a lot — again lurking — because I think the jewelry is so stunning.
What's your favorite pair of jeans?
I actually don't wear them — they just don't look good on me. I think the last time I wore them was maybe a decade ago. I do wear pants a lot but never jeans. When I travel I always wear these Raquel Allegra's technical fiber pants because you can wash them and they don't wrinkle. I have a lot of pants from Stella McCartney, Chloé, and Lanvin. Those are sort of the more tailored pants. In general, I wear dresses or skirts.
T-shirt?
I really love those James Perse Japanese cotton ones. The Japanese do almost everything better and they certainly make better cotton.
Pajamas?
In winter, I wear my high school gym class T-shirt. In the summer, I either wear this cotton slip dress that I got at Coqui Coqui before it was demolished, or I have this cotton lace nightgown from a women's lace-making collective in Sri Lanka.
Flower?
I love Icelandic Poppies and I also love night-blooming cereus. Night-blooming cereus is a kind of cactus and it's this big, almost squid-like flower, with a beautiful honeysuckle scent, but it only blooms at night. At twilight it starts perking up, and it bursts into full bloom at around eight or nine, and then by about eight the next day they're completely wilted and sagging again. I have a friend who had a garden in Hawaii and we would just sit out here at night, and you would watch it slowly come to life and then when you got up in the morning it would be dead again.
Chocolate?
Basically I just want a Ritter bar with either cornflakes or marzipan. I really like low-grade chocolate, I guess. When I was growing up, it was a rare treat to get a Hawaii Host macadamia nut chocolate.
Linens?
I really didn't know what to do for a long time so I just went to Coyuchi and I got the satin ones because they were on sale, but they're great. When you work at a magazine you can always ask the design department.
Lip balm?
I always have a Fresh Sugar Rose lip balm. Dior does this pale pink lip gloss, Crème de Rose, that has a beautiful floral scent and I wear that a lot, too.
Fragrance?
I have a lot of answers for this — so many I had to write them down. My daily is something by a brand called Mancera called Roses & Chocolate. It's a dark rose and kind of a cocoa-y blend. It doesn't smell sweet. My friend told me is smelled like civet cat pee.
Strange Invisible made two scents that I adore: The first is called Black Rosette, which is a very dark rose, and the second is Atlantic, which is kind of cedar-y.
Then from Byredo I have Mister Marvelous, which I wear in the summer mostly; the new Super Cedar, which is very, very woody; and their Rose Noir, which again, is another dark rose. The other thing I wear all the time is Voleur de Rose by L'Artisan Parfumeur, which is a men's scent and has a great, round, dark quality. I also love Dzongkha by L'Artisan.
From Comme des Garcons there's Tea, which smells like roasting green tea, kind of a primal scent for me. I love their Mint, which is a very bright spearmint, and Kyoto, which really does smell like a Kyoto temple.
Visvim, the men's line, does a room spray called Kyoto, which is a different take on a temple, but I wear that sometimes as a perfume. Then, from Coqui Coqui, I really love Rosas Secas and Rosas Frescas.
Two other big scents I wear a lot are Grey Vetiver and Champaca Absolute by Tom Ford. From Dior, there's Patchouli Impérial. It's a very beautiful, not-too-gamey patchouli, although I like a gamey patchouli.
Then I just have rose oil. There's an Indian brand called Forest Essentials that makes a very thick Indian rose. Also, there's this guy who I always visit when I'm in Marrakesh who does a beautiful Moroccan rose oil. I buy about ten little bottles of it and it lasts a long time. I sometimes wear that and then layer other things over it.
You have an extensive fragrance wardrobe, it sounds like.
It's a problem. But they keep for a long time if you keep them in the dark.
What's your approach to applying fragrance?
I put on way too much. I put some in my naval, I put some on my breast bone, and then inside of my elbows. I tend to put it on the parts that get the hottest.
If you buy something through our links, New York may earn an affiliate commission.