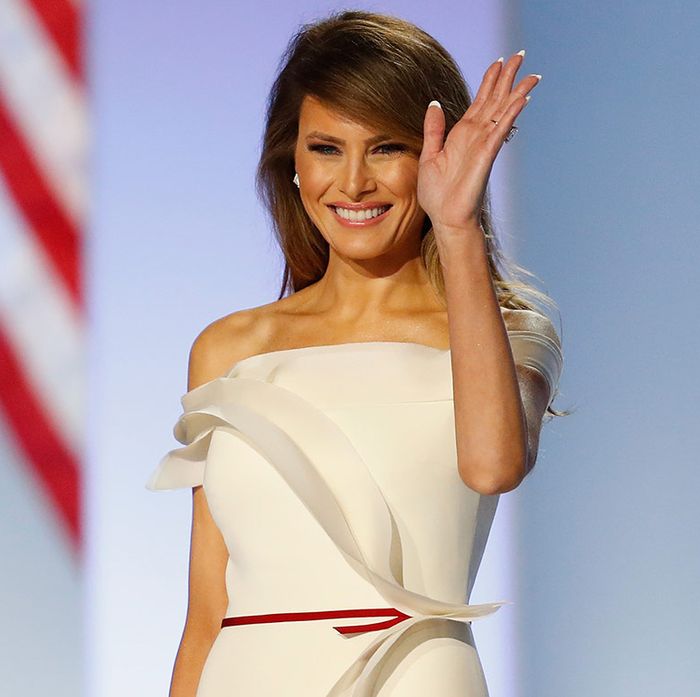 Donald Trump and Melania Trump at the Inauguration Ball.
Photo: Aaron P. Bernstein/Getty Images
There's been a lot of talk regarding Melania Trump's outfits ever since her husband was elected, but up until now, it hasn't come from her, or anyone close to her. On Thursday, Hervé Pierre, the former creative director of Carolina Herrera, who designed the First Lady's inaugural gown and styles her from time to time, broke this silence in an interview with the Times.
Naturally, however, Pierre decided to keep politics out of it. "The beauty of this country is it's a democracy, so some people want to dress certain people and some people don't want to," he said. "I choose to. If you forget about the political, or whatever, that's behind it, the needs are so interesting to answer. Even if I'm not creating the clothes, it is very creative to consider how it's going to be perceived. And when you decide, you divide. I'm not always right. I make mistakes, and same for her. There's no 'How to Be the Perfect First Lady' book. You learn on the spot."
Despite there not being a rule book for dressing First Ladies, Pierre does have some experience. In addition to working with Mrs. Trump, (as well as other clients he chose not to name), Pierre dressed Mrs. Bush and Mrs. Clinton when he was at Oscar de la Renta, as well as Michelle Obama under Herrera.
Pierre went on to describe styling Mrs. Trump as being "not really [his] forte," however, he detailed "good experience[s]" shopping anonymously for her at Bergdorf Goodman, Saks, Michael Kors, and Dior. (Not Calvin Klein.)
"When you work with a woman, it's not about the clothes. It's about the way a person is living: the way she eats, the way she organizes, her flowers," Pierre added. "I ask a question every time I put an idea on paper: Where is this woman going?"
Clearly, he didn't style her Hurricane Harvey heels.