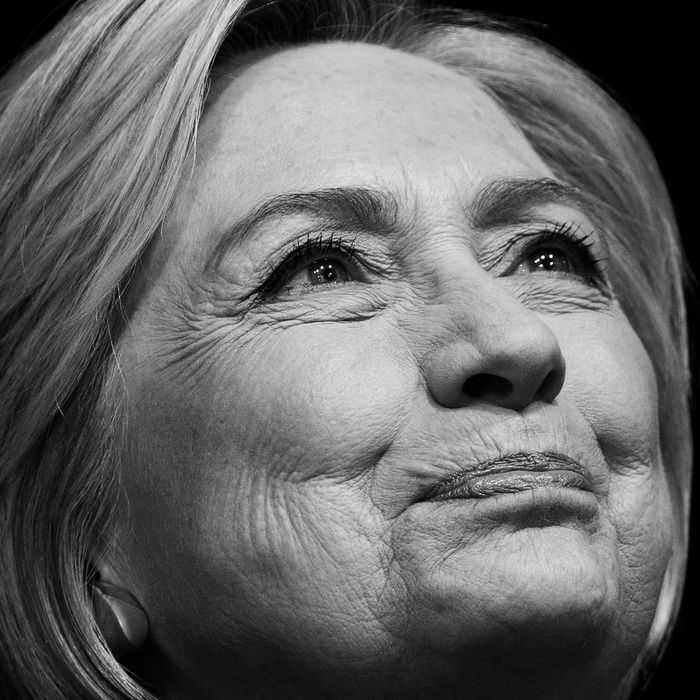 Hillary Clinton.
Photo: Drew Angerer/Getty Images
Like so many people eager to incorporate some balance, peace, and serenity into their busy lives, Hillary Clinton has turned to yoga. Clinton is currently touring the country to promote her new memoir What Happened, and in an interview with CNN's Anderson Cooper on Wednesday, the former presidential candidate demonstrated one of the ways she's been coping with losing the 2016 presidential election to a man who couldn't refrain from staring straight into the sun during a solar eclipse.
"Seems like you've been doing a lot of yoga," Cooper observed, before asking Clinton if she would demonstrate the alternate-nostril breathing she mentions in her book.
"I would highly recommend it," Clinton said. "You're supposed to shut your eyes — I don't want to shut my eyes on national television — but you do hold [your nostril] and breathe through one, and you hold it and then you exhale to the other and you keep going."
She added, "I can only say from my personal experience that if you're sitting cross-legged on the yoga mat, and you're doing it, and you're really trying to inhale and hold it, and then have a long exhale, it is very relaxing."
For tips on how to limit your flow of oxygen in an attempt to cope with our rapidly crumbling world, watch a video of Clinton's demonstration below.