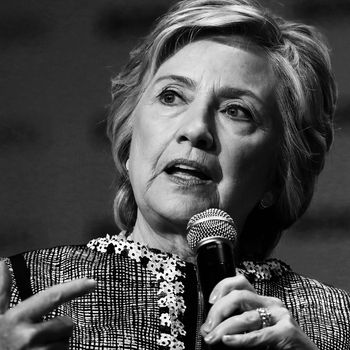 Hillary Clinton.
Photo: John Lamparski/WireImage
Hillary Clinton is currently on a publicity tour for her new book, What Happened, in which she attempts to share what went wrong during the 2016 election, continues to call out Bernie Sanders, and quotes Kelly Clarkson. One recent stop was an interview on NPR's Morning Edition, during which Clinton was asked about the "good number of young women" who didn't vote for her.
In her answer, she claims that young women did not find gender a "motivating force" to vote for her.
I think it's much more difficult to unpack all of this, and with respect specifically to young women, I do think that for a lot of young women, gender is just not the motivating force that maybe it will be in the future. But then it wasn't. 
Clinton also cites a conversation with Sheryl Sandberg where the Lean In author talked to her about research that indicates the more successful a woman is, the less likable she appears. She also used it as an opportunity to push the concept that women may not have voted for Clinton because the men in their lives didn't want them to.
And Sheryl ended this really sobering conversation by saying that women will have no empathy for you, because they will be under tremendous pressure — and I'm talking principally about white women — they will be under tremendous pressure from fathers and husbands and boyfriends and male employers not to vote for "the girl."
This reads as yet another example of Clinton casting blame elsewhere for her loss, something that's been pointed out as a running theme throughout this book. It's also hardly the first time this idea has been floated – take, for instance, when Gloria Steinem said that young women voted for Bernie "because that's where the boys are."
Always a good look to assume that women's opinions and choices are entirely shaped with the sole purpose of impressing men.