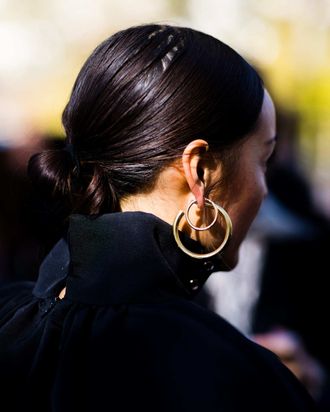 A series examining the outer edges of style.
As fashion month street style has proven again and again, hoops are the jewelry of the season. But if you have multiple piercings and a hankering to stand out, here's an idea: Why not load up as many hoops are you can? It's an extreme twist on Sade's signature look, and it'll keep you from looking like everyone else.
To pull this off properly, pay as much attention to coordination as to placement. Too much on one ear and it'll look too heavy; too much color and it looks cheesy. The best way to strike both an elegant and stylish note is to find that sweet spot between playful experimentation and overcrowding your ears. Scroll below for four different ways to try the multi-hoop look for yourself.
Brightly colored hoops used to evoke flashbacks to the garish neon looks of the '80s, but jewelry options have come a long way since then. Almost any color will suffice, but you'll want to stick with one muted pair against a more flashy pair.
Or incorporate a metal like these Elizabeth & James hoops to make the look a little fancier.
Believe it or not, there is a world outside of circular hoops, and it's glorious. Extra-large hoops are a signature of New York brand Area, and their Swarovski-bedecked square versions have already been worn by Kendall Jenner and Rihanna. You don't have to go as big (or as expensive) as those to give shapes a try, but doubling up on non-circular shapes is a take no one will see coming.
These squiggly earrings certainly push the definitions of "hoops," but that's sort of the point. When worn on the same lobe, the unexpected curves stick out even more.
For those who like to stick to plain old circle hoops, try offbeat details like these chain-linked hoops from Justine Clenquet, or rhinestone swirl hoops from Topshop. Choose a pair with one eccentric detail and then match them with a basic pair of small tube hoops, or if you have three holes, pile on all three — the designs are polished enough that they won't overwhelm your ear when worn together.
The sea-anemone-esque texture on these red Mango earrings is dramatic, but they're not very big, so you can get away with it. Pair them with an elegant knotted hoop to play up the differing textures.
If you're ever short on earring inspo, look no further than Jennifer Fisher's Instagram. The designer makes some of the best sculptural hoops around, and she likes to wear them in unique ways, like balancing a hoop in one hole with a dangle earring in another. Technically, these big triangles are meant to be worn on one ear, but you can double up on both sides to really amp up the look.
These Alexander McQueen hoops are cool for the simple fact that they look like two hoops in one. Since they're so big, stick a smaller minimal hoop in your first hole to exaggerate the variation in sizing.
If you buy something through our links, New York may earn an affiliate commission.