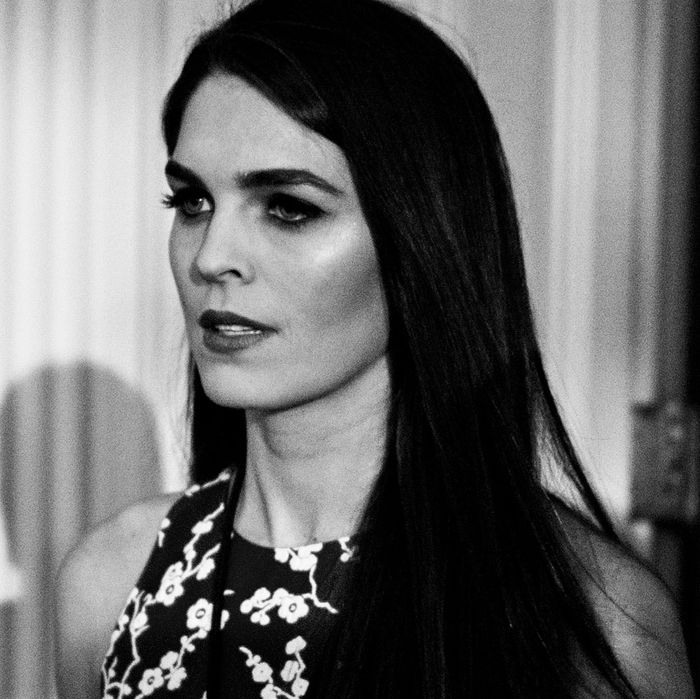 Hope Hicks.
Photo: Andrew Harrer-Pool/Getty Images
Hope Hicks has been named the White House's new communications director, officially taking on the role after having served in an "interim" basis since Anthony Scaramucci's short-lived tenure, CNN reports.
Hicks, 28, is a longtime Trump aide who previously served as a PR rep for Ivanka Trump's fashion line before becoming a spokesperson for Donald Trump — reportedly having the final say over which media outlets are granted access to him. She was one of the first staffers to join Trump's presidential campaign in 2016, and she initially joined the White House as the director of strategic communications.
With the permanent move, Hicks has become the Trump administration's third official communications director in less than a year. Mike Dubke initially served in the position before resigning in May, at which point former press secretary Sean Spicer temporarily filled in while the role was open. In July, Scaramucci took over the position — before his unceremonious ouster after only 11 days in office, following a profanity-laced rant to a New Yorker reporter.
Hicks became the interim communications director in August — although the New York Times' Maggie Haberman reported at the time that she was not expected to take on the role officially or move desks. According to CNN, Hicks has not yet moved into the office designated for the communications director and still sits outside of the Oval Office.