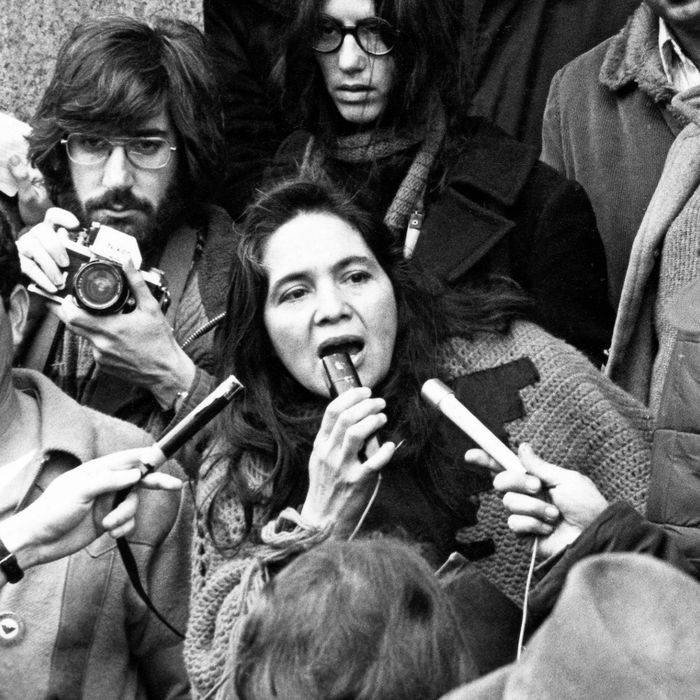 Dolores Huerta at a press conference in 1975.
If you don't know Dolores Huerta's name yet, that's about to change. The 87-year-old activist co-founded the first successful farm workers' union in the country (which later became the United Farm Workers with Cesar Chavez), but despite Huerta's many contributions to the fight for labor and immigrant rights she has been largely written out of the movement's history. Conservative Texas lawmakers even removed her from the third-grade curriculum for being a "socialist."
Now, "Dolores," a new documentary on Huerta's life, directed by Peter Bratt, and produced by musician Carlos Santana, hopes to correct the record and solidify Huerta's place in history.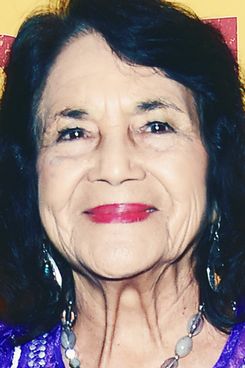 "I wasn't surprised [Dolores' story isn't included in history books] because I feel like Dolores challenges patriarchy, white supremacy, and capitalism, and those are three no-no's, and so I think she is perceived as threatening," Director Peter Bratt said.
Musician Carlos Santana, who is a first-time filmmaker, made the film at his mother's insistence.
"Dolores is the real Wonder Woman and her powers are equality, fairness, justice, compassion, consideration — those are super powers," Santana said. "I call her the La Reina de Luz, the Queen of Lights, and we felt that it was supremely important to bring her story to light so women all over the world will remember their own magnificence."
Currently Huerta, who doesn't appear to have slowed down at all with age, is focusing on reforming the educational system through her organization, the Dolores Huerta Foundation, and wants to see the contributions of people of color taught properly in history books.
"I think the reason we're in this moment now with Trump as president and all of the things going on with the Neo-Nazi's, is because in our educational system we do not include the contributions of indigenous people," Huerta said. "The fact is the White House and Congress were built by African slaves, and Mexicans and Asians built the infrastructure of our country. And as long as we do not teach the contributions of people of color or of women or of labor in our school books than this is the result that we get — Trump is president, and people somehow think that Caucasians built the country. "
Huerta says she is now specifically focused on disrupting the school to prison pipeline — or the idea that students who are capriciously suspended or expelled for minor infractions explains why many young people end up in prison.
Even now, when the future is uncertain for immigrants to the United States, Huerta refuses to be discouraged.
"You have to look backwards and you can see in the 1960s and 1970s we were fighting Richard Nixon, and we were fighting Ronald Reagan," Huerta said. "But we won, we were able to make some significant changes and we can look and see what we accomplished in that time, so even going through what we are going through now, in the end we are going to come out ahead. Because so many more people are organizing, and you know we are on the winning side. I have also been quoting the poet, Pablo Neruda, 'They can cut all the flowers but you can't hold back the spring.' We are the spring."
Dolores is currently playing in New York, and will open this week in Los Angeles.