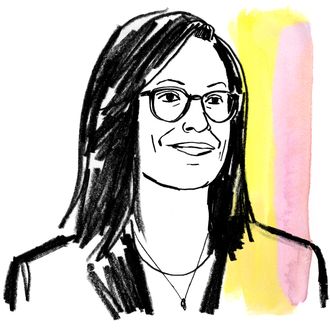 Journalist Maggie Haberman, 43, has broken some of the largest scoops of the Trump administration, including the recent ouster of chief strategist Steve Bannon. She is also a political analyst for CNN who, before she landed at the Times, worked for Politico and the New York Daily News. She has been dubbed "maybe the greatest political reporter working today." She lives in New York City with her three children and her husband, Dareh Gregorian, a politics editor at the New York Daily News. Here, she shares how she gets it all done.
On her mornings:
Usually I go to bed around midnight and wake up around 6, unless I have to do TV, in which case I get up at 5. I grab my phone, check my email, check Twitter. I have push alerts for the president and some other reporters. Then I look at the New York Post, New York Times, Washington Post, Drudge, The Wall Street Journal. I read whatever news digest has been sent to me. I get Politico's still. I still get [NBC's] First Read. If I'm doing TV and it's a school year, I'll do the TV, come back home, help my kids get breakfast, eat something myself, and get ready. And then at some point I'll either go to work in a coffee shop or head into the newsroom. I drive my kids to school. I drive a lot. It's ill-advised.
On her technology:
I use QuickVoice Pro for interview. It's got a pretty good mic for the iPhone. I used it for my last interview with the president. You have to remember to put your phone into airplane mode, because if somebody calls, it stops working. I use my computer to take notes more and more because my handwriting is so bad. I'm a lefty and it's getting worse and worse. I use a lot of encrypted apps for communicating with sources; I prefer Signal and WhatsApp. I store their contacts under different names.
On learning to be a reporter:
I never wanted to be a reporter. I took a job at the New York Post as a clerk because I couldn't get a job in magazines, which is what I really wanted to do. I was incredibly lucky — I've had a lot of mentors. There was Stuart Marques, who hired me. He was the metro editor at the Post. Allen Salkin, who's a freelance writer now, he was one of the people who taught me newspaper writing. My husband actually taught me a lot. He was a night rewrite guy when I started. Jack Newfield was one of my rabbis. He taught me an enormous amount about not being intimidated by power when you're covering it. And another two — sorry if I'm giving you too many, but it takes a village — are Bob Hardt, who's at NY1 now, and Gregg Birnbaum at NBC. They were both my rabbis in the Clinton New York Senate race. Dave Seifman, who was the bureau chief in City Hall for the Post when I worked there, is an enormously fair reporter, and he taught me not to write more than you know. Later on, it was John Harris at Politico and Alex Burns at the New York Times. Glenn Thrush has had a huge impact on me, though we're friends so it's a bit different.
On convincing people to talk to her:
I don't know how I do it. I'm annoying, and I won't stop contacting them. I was a bartender for four years, and that was the best training that I had for learning how to approach people.
On her writing routine:
I put on headphones and I either listen to a TV show that I'm playing on Amazon, or I listen to music. I have a rotation of shows that includes Homeland, Friends, and Private Practice. (The restaurant where I was a bartender, Kate Walsh was a waitress. It was a million years ago. She was blonde then.) And more recently, Big Little Lies, which is a really, really well-produced show. It's about tuning out the outside noise.
On being sick of Donald Trump:
[Long laugh] Did you ever see the movie Being John Malkovich? You know the scene where he enters his own subconscious through a portal and he ends up in a restaurant and everyone has his head and the only word they can say is "Malkovich?" Sometimes it feels a little like that. It's a little like, Trump-Trump-Trump-Trump-Trump! I was driving on the West Side Highway once during the campaign, toward the end, and I passed a sign that said, "Beautification by Donald J. Trump" or something. And then on my left was the Trump residential building Trump Place. And on the radio they were talking about something he had just said at a rally. It was definitely a bit of a feeling like, Wow, he is really everywhere. He just has a way of engulfing everything around him.
On staying neutral on social media:
Sometimes I think I go a little bit overboard, in terms of not realizing how something will translate on Twitter. There's this line from Broadcast News where Albert Brooks is a TV correspondent and says sarcastically, "Let's never forget, we're the real story, not them," mocking people who try to become the story. I really don't like Twitter. I use it a lot, but I don't like it. It just feels antithetical to what reporters are supposed to do, which is to take time, take all the time you can, to be as thoughtful as possible. That's quite difficult in 140 characters. Or not pulling the trigger too fast when you're still trying to process something. That's where I've made my most mistakes on Twitter: pulling the trigger too fast when the situation is unfolding or electric.
On burning out:
Burnout is when you're unable to get out of bed. I'm not there yet. But the White House is historically a tough beat. It's typically a beat with a shelf life. But oh, I love my job. I love my job. I think what reporters do is incredibly important. Part of the reason why our particular experiment with democracy has worked is because of the First Amendment. I know that that sounds corny, but it's actually the case. And there is literally no adrenaline rush as good as a scoop, nothing as good as having information that somebody else doesn't have.