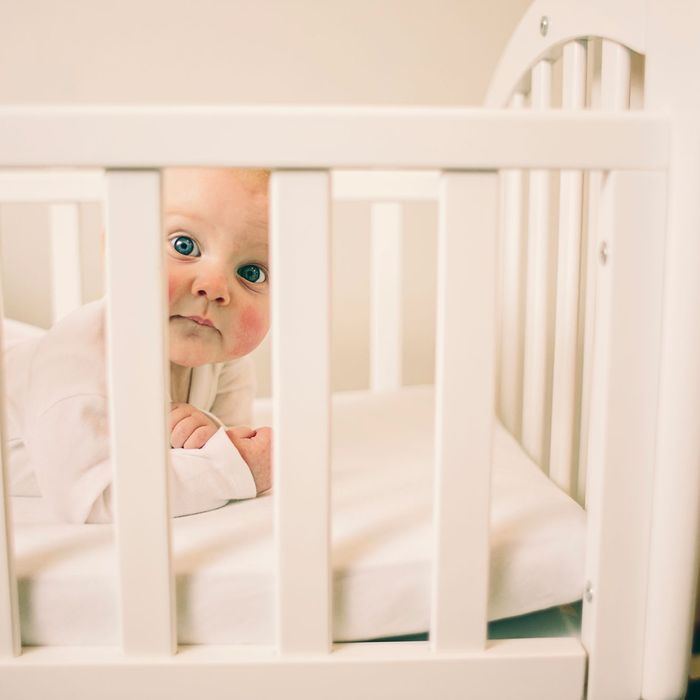 Hi.
Photo: Sally Anscombe/Getty Images
Yesterday, the New York Times published a piece called "The Overmonitored Nursery," detailing the kinds of high-tech products available to parents who can afford them. Below, a list of every product mentioned, plus its cost.
• The Owlet Smartsock, which tracks a sleeping infant's oxygen levels and heart rate ($299.99)
• The Nest camera, a sleek-looking home-security camera one could use as a baby monitor ($199)
• The POMO baby tracker, described like this on its website: "Anxiety can now be eliminated with the tool functioning as a guardian protecting the baby at all times" ($119)
• The FeverFrieda, a temperature tracker ($69.99)
• A cheaper tracker: The TempTraq ($16.99)
• The Momsense sensor, which attaches to a breastfeeding baby's throat to count swallows ($89.99)
• The Nanit Sleep System, an intense baby monitor that comes with the option to purchase a year of "sleep analytics" ($579 for the camera and analytics)
If you bought every product, you'd pay $1,373.96. Not surprisingly, the pediatrician consulted by the Times declared these products unnecessary, as did the American Academy of Pediatrics (whose Dr. Lori Feldman-Winter went a bit further, explaining, "We don't recommend products that are specifically sold to reduce the risk of SIDS because we think it's false advertising").
Pamela Drucker, the author of Bringing Up Bébé and the woman who made us all feel bad about not raising our kids as well as the French, is the piece's final quote: "[French parents] understand that, at the beginning of the baby's life, you're setting the tone for family life going forward. If you start out by tracking the baby's every breath, what comes next?"
What comes next? Probably this.