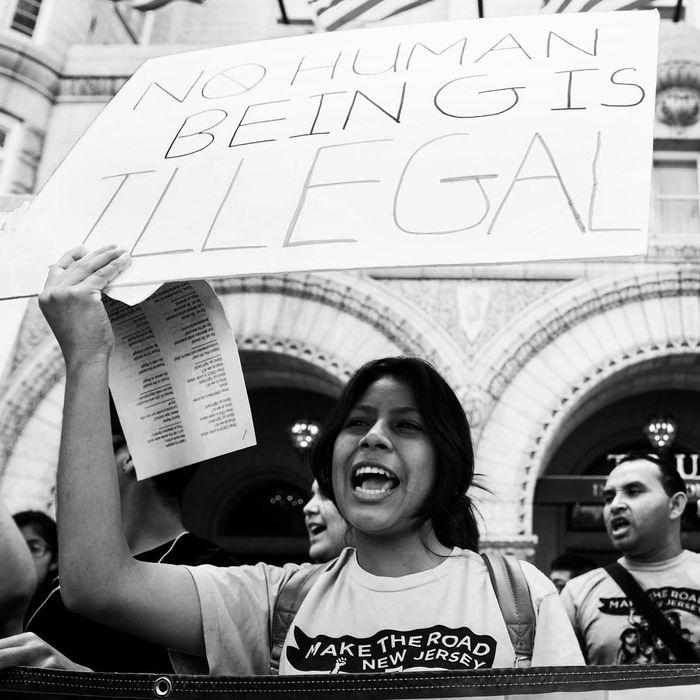 People protesting the end of DACA in Washington.
Photo: Bill Clark/CQ-Roll Call via Getty Images
President Donald Trump announced on Tuesday that his administration will end DACA, the Deferred Action for Childhood Arrivals program, a decision that affects roughly 800,000 undocumented immigrants whose parents brought them to the U.S. as children.
DACA allows eligible immigrants to apply for a temporary reprieve from deportation, as well as grants them access to work permits. In a written statement, Trump said, "I do not favor punishing children, most of whom are now adults, for the actions of their parents. But we must also recognize that we are nation of opportunity because we are a nation of laws." The president also urged Congress to come up with a replacement plan for DACA before it is phased out. However, it's unclear whether Dreamers (DACA beneficiaries) will be able to retain their protected status in the meantime — or whether deportations will start immediately in March.
The program is a lifeline for many children of the U.S.'s 11 million undocumented immigrants, allowing them to live and work in the country they call home. Here are some ways you can fight Trump's decision and stand up for their rights.
There are countless rallies going on across the country to protest the end of DACA, including:
In New York City:
DACA Fights Back: Trump Tower Take Over: Organized by the Movimiento Cosecha, a nonviolent group fighting to protect the country's undocumented immigrants, a rally is taking place outside of Trump Tower in Manhattan on Tuesday from 11 a.m. until at least 7 p.m. The protest plans to "shut down" Trump Tower through peaceful sit-ins, mass rallies, school walk-outs and more. As of Tuesday afternoon, at least nine DACA recipients had been voluntarily arrested during the protest.
Fight for DACA!: The New York Immigration Coalition has organized a rally for Tuesday evening from 5:30 p.m. to 8 p.m. in Foley Square in Manhattan to "remind this president that we will protect immigrant New York."
In Washington, D.C.:
Protesters have been rallying outside of the White House and the Justice Department in Washington all day Tuesday. There have also been marches outside of Trump International Hotel in D.C.
Elsewhere in the country:
Protests have also erupted elsewhere in the country, including Nevada, Utah, Nebraska, and more. A good way to find an event near you is to visit the Here to Stay website, which has an interactive map that lists protests and rallies all over the U.S.
Lorella Praeli, the ACLU's director of immigration policy and campaigns, told the Cut that the easiest thing people can do to help defend DACA recipients is to "engage in conversation to organize and push their members of Congress to pass a bipartisan Dream Act."
The ACLU's website has a tool for you to find the contact information for your local representatives, in addition to an easy script you can use when making the calls: "Hello, my name is ____ and I am calling to demand that my senator stand up for undocumented youth and join as a co-sponsor of the Dream Act."
The group Here to Stay also suggests calling Speaker Paul Ryan (213-335-2244), Senator Mitch McConnell (855-336-0788), Senator Chuck Grassley (202-517-2078), Senator John Cornyn (281-306-4198) and Representative Raul Labrador (213-335-2333) to demand that they pass legislation to help immigrant youth and ensure that there is no gap in their protection.
You can also donate funds to one of the many organizations working to protect and defend the rights of immigrant children in the U.S., including:
American Civil Liberties Union: The ACLU helps safeguard the rights of refugees and immigrants.
Families for Freedom: This is a human rights group in New York that helps families fight deportation.
Immigrant Defense Project: The IDP has a community of legal advocates to fight deportations and government abuses against immigrants.
Immigration Equality: This group fights for LGBTQ immigrant rights and provides legal assistance to those in need.
Make The Road New Jersey: This organization fights for Latino and working class communities in New Jersey (and New York).
National Immigrant Law Center: This group fights anti-immigration policies through lawsuits, policy initiatives, and other legal support.
United We Dream: UWD is an immigrant youth-led organization that runs advocacy programs and provides supports for Dreamers.