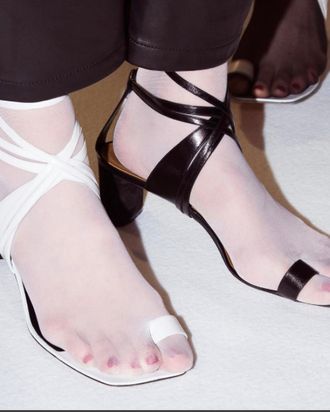 A series examining the outer edges of style.
When three wildly different, wildly popular brands embrace the same look, you know it's a trend. And right now, Céline, Calvin Klein, and Moschino are all excited about mismatched shoes. It sounds crazy, but the idea actually seems to be making its way off the runway. Naomi Harris wore a pair at the Oscars earlier this year, as did Nicole Kidman at the Emmys on Sunday.
There are two ways to go about wearing mismatched shoes in real life. If you really want to commit, you could splurge on a designer pair and rest secure in the knowledge that they were created to look good together. Or you could buy two pairs of affordable shoes and wear one of each. If you attempt the latter, look for a timeless silhouette you won't mind owning twice, and make sure at least one pair is a neutral to ground the other, more colorful shoe.
Still unconvinced? Think of it as color-blocking on your feet, and it might start to seem less scary. Black-and-white is an easy combination for beginners, and you can add in more color — or even a pattern — once you're feeling comfortable. Scroll ahead to get into the trend for yourself.
Designer Pairs That Come Mismatched
The soft pink juxtaposes nicely with the dramatic shapes.
The mismatched crystal embellishments make these worth the price.
These have been a street-style trend for a while, but the straps give them a cool update.
For Feeling Luxe While Running Errands
Shearling-trimmed loafers: so walkable and yet so fancy.
If You Want to Spend Under $500
High-concept and high-quality.
If You're Sick of Regular Oxfords
Jacquemus has really run with this trend. These derby lace-ups are slightly surreal in the best way.
Affordable Options to Buy in Pairs
If You Want to Spend Under $60
At $28 per pair, this is an easy way to buy into the trend.
Wear the classic black heels to work, but swap in one mustard yellow shoe when you want to go out.
The Balenciaga-Inspired Option
Balenciaga has brought back the stretchy, clingy boot. Here's a trendy way to fake the look on your own.
White boots are still incredibly trendy, and you need a black pair of boots for fall, so buying these in both colors is almost a practical choice. Almost.
If you buy something through our links, New York may earn an affiliate commission.