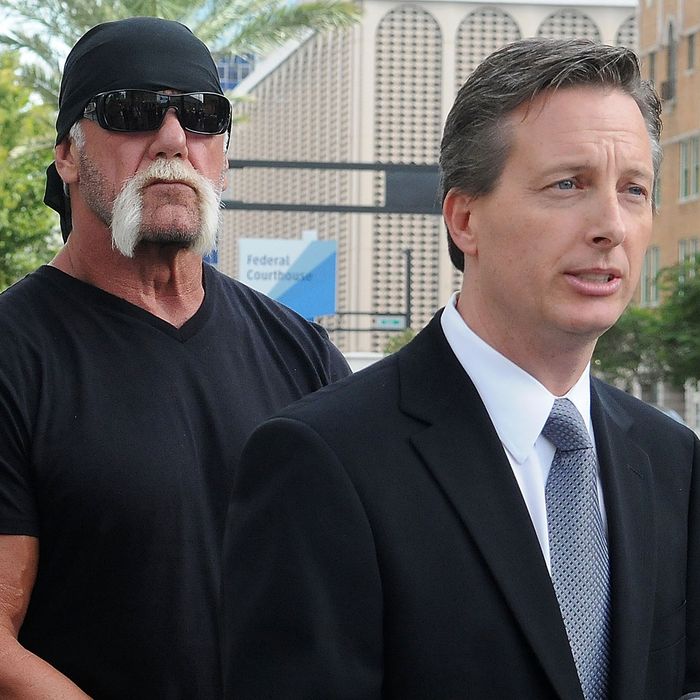 Hulk Hogan and his attorney Charles Harder.
Photo: Getty Images
On Thursday, the attorney who represented Hulk Hogan in his case against Gawker filed a defamation suit against its sister publication, Jezebel, over an article claiming a group therapy program called Superstar Machine was a "cult" that preyed on women, the New York Post reports.
Attorney Charles J. Harder represented Hogan, in the Peter Thiel–funded invasion-of-privacy suit that led to Gawker's demise, as well as First Lady Melania Trump in defamation lawsuits against The Daily Mail and a 70-year-old blogger. Now, he's representing Gregory "International" Scherick in the Manhattan Supreme Court lawsuit against Jezebel over a May 2016 investigative report, which claimed Scherick's group Superstar Machine "preys on its members' insecurities, exploits them financially, and isolates them from friends and family."
Jezebel reporter Anna Merlan spoke with several women who left the group (known as SSM), as well as a concerned friend of a group member, for the article. In her report, she also detailed her repeated attempts to interview current SSM members, Scherick (whom she emailed, called, and Facebook messaged, with no reply) and the group's administrator Shana Kuhn-Siegel — with whom Merlan spoke to twice on the phone and sent over interview questions before Siegel apparently stopped replying (though Siegel ended up sending a statement after the article's publication).
The lawsuit alleges Sherick's personal and professional reputations were harmed by the allegations, the Post reports. The complaint claims his group therapy program is "not a cult by any stretch of the imagination" and that he's lost members because of the story.
The lawsuit names Gizmodo Media Group — Jezebel's new parent company — as a defendant, as well as Merlan and former Jezebel editor-in-chief Emma Carmichael, the Post reports.
A spokesperson for Gizmodo Media Group said in a Thursday statement:
This case is nothing more than another obvious attempt by Charles Harder to intimidate journalists.​ ​The story in question was published on May 10, 2016—months before our acquisition of certain Gawker Media assets, including Jezebel. Any litigation over the story should have been brought against Gawker Media in bankruptcy court—not against Gizmodo Media Group or the individual writers. We believe this suit is meritless and we plan to contest it vigorously.
This post has been updated to include Gizmodo Media Group's statement.