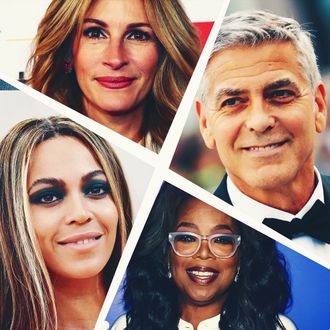 Beyoncé, Julia Roberts, George Clooney, and Oprah Winfrey.
Photo: Getty Images
A number of big-name celebrities — including Beyoncé, George Clooney, Oprah Winfrey, Reese Witherspoon, and Julia Roberts — are set to appear on a September 12 telethon to raise money for those affected by Hurricane Harvey.
As Variety reports, "Hand in Hand: A Benefit for Hurricane Harvey Relief" will be broadcast across several networks — ABC, CBS, Fox, NBC, and CMT — at 8 p.m. that day in roadblock fashion. The telecast will be filmed in Times Square, Nashville, Los Angeles, and San Antonio, Texas.
The telethon comes after Harvey brought catastrophic floods to South Texas, claiming at least 60 lives as it destroyed homes, created environmental hazards, and displaced thousands. Its proceeds will benefit a number of groups helping with recovery efforts in the hard-hit Houston area, such as the United Way of Greater Houston, Habitat for Humanity, Feeding Texas, the Mayor's Fund for Hurricane Harvey Relief, and Save the Children.
The program will also feature appearances from Karlie Kloss, Jamie Foxx, Ryan Seacreast, Dennis Quaid, Matthew McConaughey, and more.