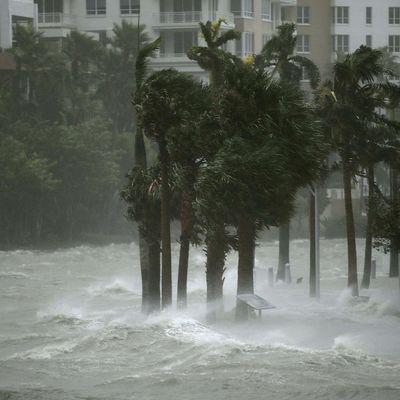 Miami during Hurricane Irma.
Photo: Joe Raedle/Getty Images
As winds from Hurricane Irma started barreling into Miami early Sunday morning, a woman from the city's Little Haiti neighborhood went into labor and called 911. However, the strong winds made it too dangerous for rescue crews to get to her, so she wound up delivering her own baby at home.
Hurricane Irma made landfall in Florida on Sunday as a category 4 storm. Although Miami and southeast Florida were spared from the storm's direct path, the region was still hit with rainfall, high winds, flooding, and recorded wind gusts of up to 94 mph.
According to the Washington Post, paramedics and fire crews were only able to respond to four of the dozens of emergency calls they received overnight because of the intense winds from the storm. One call came in at 3:23 a.m., from an unidentified woman in Little Haiti (just outside of downtown Miami), who was in labor. But when she called again at 5:35 a.m., she was about to give birth — and rescuers couldn't get to her.
Luckily, dispatchers were able to arrange a conference call with paramedics and a doctor from Jackson Memorial Hospital in Miami, who coached the woman through the entire birth of her baby girl, including delivering the placenta and cutting the umbilical cord, the Post notes. Assistant fire chief Eloy Garcia told the Miami Herald that the dispatcher also told her to tie the cord off.
"Baby came out good, healthy," Miami's emergency management director Pete Gomez told the Post. "The woman was doing good, too." Once rescue crews were able to safely reach them, the woman and her baby daughter were taken to the hospital later Sunday morning. Gomez said he wasn't aware if she was alone during childbirth, or how long the call took.