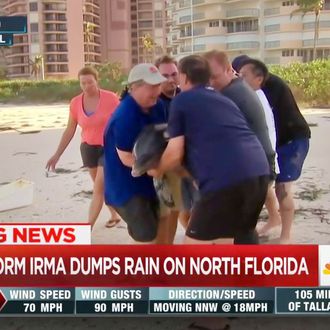 After devastating much of the Caribbean, Hurricane Irma hit Florida on Sunday. In particular, it made landfall on Marco Island, where MSNBC reporter Kerry Sanders was stationed. During a Monday morning news report, he shared that he and his fellow citizens were just out on the beach, rescuing dolphins.
Two dolphins, one adult and one baby, had become stranded on shore in the wake of the storm. Sanders and a group of strangers worked quickly and banded together to get them back to their ocean home:
Yeah, we know. You needed that.