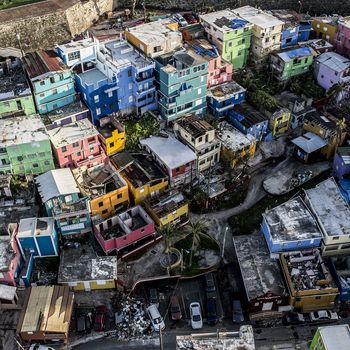 Puerto Rico after Hurricane Maria.
Photo: Bloomberg/Bloomberg via Getty Images
Hurricane Maria made landfall in Puerto Rico as an "extremely dangerous" category 4 storm last week, causing mass devastation, deaths, and catastrophic flooding, in addition to wiping out electricity across the entire island.
In the wake of the disaster, many in the U.S. watched the humanitarian crisis in the Caribbean unfold in horror from the safety of our homes. With scarce food, fuel, and cell service, Puerto Rico is in need of immense aid — here are some ways you can help those affected.
Donate money. "Monetary donations are the best way to help people affected by international disasters," as the Center for International Disaster Information notes. Puerto Rico's First Lady, Beatriz Roselló, has established the charity United for Puerto Rico: Together Changing Paths, which is accepting donations online (including through Paypal) to provide aid and support.
You could also donate to UNICEF, which is working to get emergency survival kits to kids in Puerto Rico; Direct Relief, which is providing medical relief to Puerto Rico and neighboring Islands; Hispanic Federation's "Unidos" Hurricane Maria relief fund; One America Appeal — a group established by former U.S. presidents that's assisting in hurricane aid efforts; International Medical Corps, which is providing emergency response in the area; and other aid groups on the ground in Puerto Rico. CharityNavigator is also a great resource for finding other highly-ranked organizations you might want to donate to for Hurricane Maria relief. GoFundMe has also created a hub page of its many fundraising campaigns for Maria relief efforts.
Donate supplies. At the moment, cash donations are generally preferred because — according the National Voluntary Organizations Active in Disaster — in early stages of response, most groups are unable to accommodate any material good donations. However, if you would like to donate supplies, United for Puerto Rico put together a guide about what emergency goods and construction supplies they need most. The list, which you can check out here, includes bottled water, baby wipes, hand sanitizer, diapers, canned foods, blankets, dry foods, baby formula, and much more. You can donate the requested supplies at local donation spots set up nationwide (for instance, in New York City, 17 firehouses are accepting donations to send to Puerto Rico, and and in Miami, the Puerto Rican Leadership Council of South Florida is also taking supply donations). Check your local listings to find out where to send the goods.
Donate blood. As after any disaster, blood donations are also needed in Puerto Rico. OneBlood, a nonprofit blood center serving Florida and the Southeast, has been sending daily blood and platelet shipments to hospitals in Puerto Rico while working closely with American Red Cross, Blood Centers of America, and America's Blood Centers. If you're in a region the group serves, you can donate blood through OneBlood. Otherwise, if you're elsewhere in the U.S., the American Red Cross also has information on how to donate blood.
Volunteer. National Voluntary Organizations Active in Disasters is looking for volunteers to help in communities across Puerto Rico (after public officials and disaster relief organizations assess the damage and need for help). You can register on its website. If you do end up volunteering, you must be willing to work with survivors of all backgrounds, and you must also be aware that there will be no power in many areas and you'll likely have to stay in shelters or other arrangements. You can also register to volunteer with Habitat for Humanity to help rebuild homes in Puerto Rico — again, once the hurricane's damage has been fully assessed.