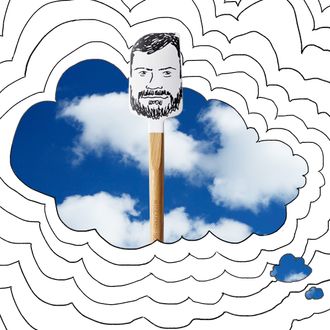 I Think About This a Lot is a series dedicated to private memes: images, videos, and other random trivia we are doomed to play forever on loop in our minds.
Last August, I became aware of what the advertising biz would call a "must-have" item: a Williams-Sonoma spatula designed by Ina Garten. It is plain white and reads, "Have fun!" in loosey-goosey red handwriting on one side. The day the spatulas were available for purchase, I bought two: one as a housewarming gift for friends who had just moved in together, and one for myself. (Unfortunately for you, they are now sold out.)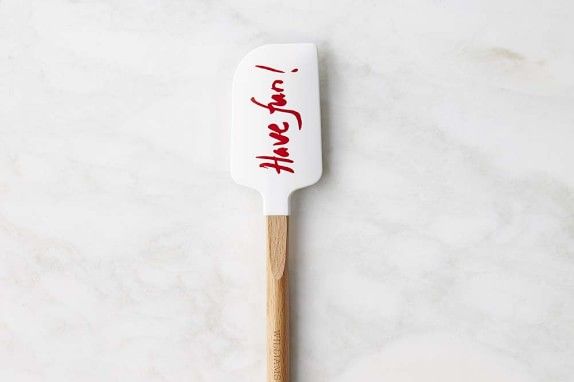 I love to have fun. In fact, I would say that having fun is one of my all-time favorite things to have. I am passionate about it. I love it, and I love when others have it too. I'm a goddamned freaky deak when it comes to having fun. What's better than having fun? Nothing!!! Both Ina Garten and I know that. That's why I bought it. I did not buy it because it was part of a charity project.
This spatula, as it turns out, is part of the No Kid Hungry Chef Series Silicone Spatula collaboration between No Kid Hungry and Williams-Sonoma. No Kid Hungry is a nonprofit organization dedicated to ending child hunger in America. Williams-Sonoma is the store you visited after you watched Julie & Julia once. Still though, learning that my favorite TV personality of all time drew this on a spatula for a charity didn't really answer any of my questions about its existence. I wondered about the spatulas. The spatulas haunted me. And hauntings are not fun, unless you are a ghost.
I reached out to No Kid Hungry, and discovered that every person who works there is an angel. I emailed back and forth with No Kid Hungry's PR person Marley, whose excellent email presence, promptness, and can-do 'tude has earned her one invitation to my wedding, assuming I ever have one (haha), which is one of the many things I plan to chew over with Marley when she comes over to watch The Bachelor. Marley told me that this last year, the year of Ina, was actually the fourth year of what No Kid Hungry calls "Spatcon." Ina was just one of nine celebrities invited to design their own spatulas for Williams-Sonoma.
While I personally and very confidently feel that Ina's spatula, emblazoned with a universally positive message (except probably, when applied to hungry children), is the only one worth having, the other "spats" are whatever as well. (Spat is how my Marley — I mean not my Marley, she's her own person — casually referred to the spatulas in her responses. It is also the only way I refer to spatulas now.) Chrissy Teigen, Ayesha Curry, Giada De Laurentiis, Danica Patrick, and American Girl (?) all participated in last year's collaboration.
Ina Garten cares about feeding the children, she does. She wants to feed the children. But having fun is kind of her main thing. If you were asked to draw your main thing on the plastic head of a spatula to help feed some kids, what would it be? I wonder what Marley's would be. Gah, I can't believe I don't know this one already!
If you are Jimmy Kimmel, your main thing, the thing you would draw on the plastic head of a spatula to help feed some kids, is: a graven image of your (Jimmy Kimmel's) own face.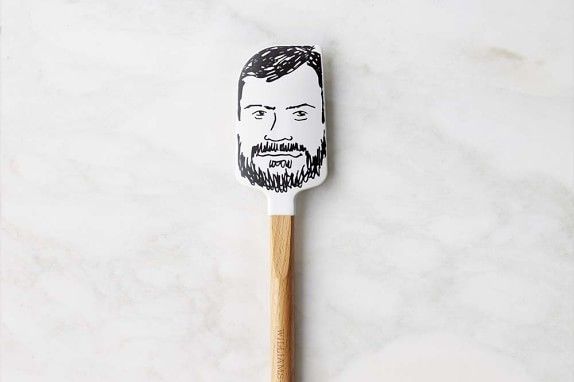 When asked to design a spatula that raises money for America's hungry kids, Jimmy Kimmel drew a picture of his face.
Damn, having fun doesn't seem to be a problem for Jimmy either.
I love everything about every one of these spatulas, except for 2017 participant Bobby Flay's, whose spat contains the word "luscious" three times. "Relax" is the only word not on there. Even more than the spats themselves, I love the idea of them. How did this happen? What Big Bang occurred in the universe to bring these luscious, lazily designed kitchen tools to me?
When I asked Marley for insight into the design process, she told me that "each participant was given a blank sheet of paper and set of markers," confirming what I have probably always known: I am in love with Marley. "It was our goal," she continued, "to have a diversity of voices, each one free to express themselves as they wanted. One of our personal favorites for 2017 is Questlove's spatula — it's a sketch of the pick he wears in his hair. It's deeply personal and symbolic, which we love!"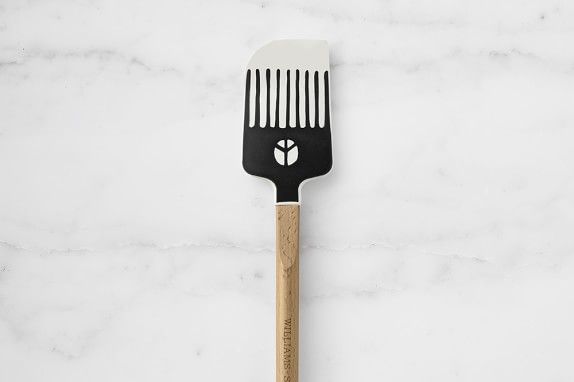 We really, really do. I love that American Girl (?) and Danica Patrick and Ayesha Curry presumably sat on tiny chairs around one of those tiny, preschool classroom tables, diversely expressing themselves all over some random spatulas. Jimmy hogs the black marker while carefully studying his reflection in a hand-mirror. Giada asks Questlove if she can please borrow the blue when you're done with it. Ina writes two crucial words and ascends, Leftovers-style, leaving the planet forever.
I asked Marley what the message behind Ina's spatula was. She responded, "People love [Ina] because she inspires them to have fun in the kitchen!" Marley, Jimmy K., Ina Garten, and I know how important it is to have fun, and if you come over to my house and I make you eggs, you will know it too. And maybe, because I watched Julie & Julia recently, I will get a cute little smudge of flour on my face while I'm cooking. Why, you ask, am I putting flour in your eggs? Because it's fun.