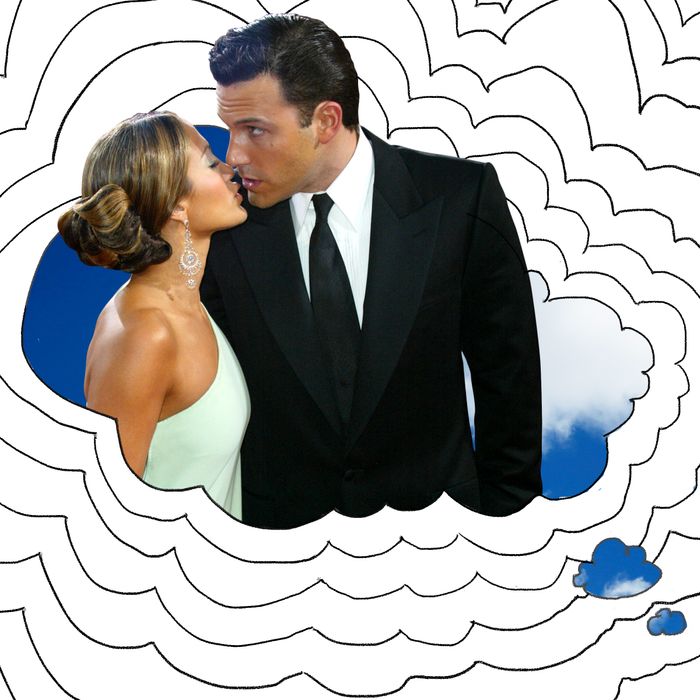 Photo-Illustration: Jeni Zhen/Photo: Stephen Shugerman/Getty Images
I Think About This a Lot is a series dedicated to private memes: images, videos, and other random trivia we are doomed to play forever on loop in our minds.
In 2003, Jennifer Lopez and Ben Affleck walked the red carpet together at the 75th Academy Awards. They were a few months into dating; Gigli, a film I maintain was worth the production costs if only to make snide reference to it in pop-culture essays, had premiered in 2002. Like a lot of couples do, they kissed on the red carpet. But Ben's eyes were elsewhere, looking over the top of Jennifer's head as she leaned in.
I think about that photo a lot.
It's not the only time this happened, either; a red-carpet image from the Gigli premiere shows Ben doing the same thing. (Gigli! The film that keeps on giving!) But given that it was on the Oscars red carpet, it was the one that people fixated on. What was he looking at? Was there a rift in the relationship? Did she love him more than he loved her? Was Bennifer going to break?! You can read a lot of unsaid dialogue in one photo, but you can also project a lot onto one photo. I tend to do the latter.
Back then, Bennifer's relationship was my everything. They had one name; I dream up unhinged and punny hashtags for my friends the second they start seeing someone new because what if you wind up marrying someone whose name is an awful hashtag? She used her "Jenny From the Block" music video to lambaste the paparazzi's obsession with them. This was before social media as we know it today, so neither could have posted coupled-up selfies to set gossip straight.
She was a singer, a rom-com heroine, one of the Most Beautiful People in the World, and the inspiration for Google Images. He was an Oscar-winner golden boy who was literally golden now — he started gelling his hair back and getting spray tans in a color that will likely be archived as "early aughts orange." So why was he so distracted when he kissed her?
Breakups affect even the most gorgeous and successful of us all, and Bennifer was no different. She was a superstar from the Bronx and he was a wunderkind from Boston, and I remember critics claimed that she had "changed" him. Ignoring the misogyny in that assessment, Bennyboy did look really good in those custom suits. His was a glow-up, courtesy of the maker of Glow by J.Lo.
I have a theory that celebrity couples are only as marketable as their ability for us to use them as symbols for our own lives. When two people break up and we lament how love is dead, what we're really saying is, if two fabulous and rich and conventionally attractive and perfect people couldn't make it, what hope is there for any of us plebes? When two people look so great together, we try to find the thing that makes them less great, the fatal flaw that signals the end — maybe that distracted kiss was it.
That distracted kiss is every time a guy doesn't text me for three days before replying back with a "lol." It's me thinking I'm doing everything right and looking great and slaying the proverbial game, and still only ever matching with dudes who "aren't looking for anything serious" and "just want to see where things go." That distracted kiss is my talisman, because while it happens all the time to us normal people, it can even happen to J.Lo.
It's a lot to hang onto one photo, the backstory of which we may never know. But I like thinking a lot about the "what if"s in that story — including whether they shared the same spray-tan artist — and all the ways Bennifer was my first iteration of #relationshipgoals, in the bad and the good.