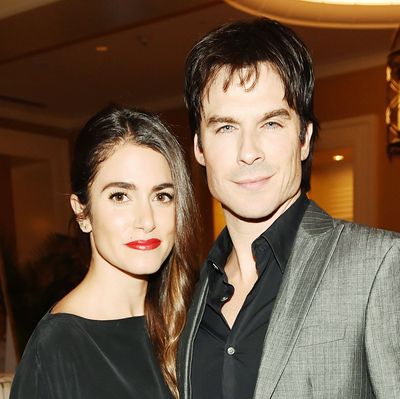 Nikki Reed and Ian Somerhalder.
Photo: 2016 Moses Robinson
Ian Somerhalder and Nikki Reed, parents of 2-month-old Bodhi Soleil Reed Somerhalder, revealed on a podcast the kind of creepy way they decided to start a family.
The host of the podcast, Dr. Berlin's Informed Pregnancy, asked how the couple knew they were ready, and Reed responded, "When [Somerhalder] threw out all my birth control pills."
Turns out, on a trip to Barcelona, Ian Somerhalder went into Reed's purse and popped out all of her birth-control pills after they discussed at dinner with friends that they were all ready to have children.
In explaining himself, Somerhalder said, "We decided that we wanted to have children together, and it was just time. But unbeknownst to poor Nikki, she didn't realize that I was going to go in her purse and take out her birth control. By the way, it was the beginning of the pack, so I had to pop all those suckers out. It is a lot of work, especially after a little bit of sangria."
The moment is captured on video, including slow-motion footage of each pill going into the toilet. Both Reed and Somerhalder laughed through the retelling of the birth-control episode and Somerhalder's, um, presumptuous courting habits.
He apparently discussed having kids with Reed two months into their relationship and told his friends after their second date that he was going to marry Reed.
Men who may be reading this: Do not throw out your wife's birth control without asking her first.