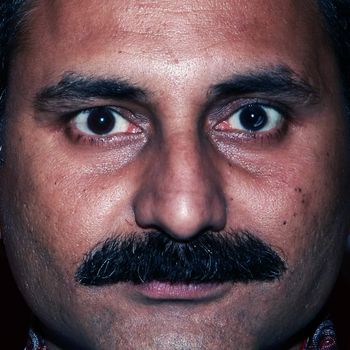 Director Mahmood Farooqui, whose case was overturned.
Photo: Anna Webber/Getty Images
Women's-rights activists in India have expressed concern following a New Delhi high court's decision to overturn the rape conviction against a Bollywood director, because "a feeble no may mean a yes" in cases where the victim is well-educated, or has already been intimate with the attacker.
Mahmood Farooqui, director of the 2010 comedy Peepli Live, was found guilty in August 2016 of sexually assaulting an American student while she was visiting his home. Initially, the ruling was seen as an important step forward in the way Indian courts handle assault, because it was one of the first cases in which forced oral sex was classified as rape. Now, activists worry this latest decision "muddies the water" around consent.
In his ruling on Monday, Justice Ashutosh Kumar cited the victim's testimony in court, and the fact that she and Farooqui had kissed before the attack. He argued, "Instances of woman behavior are not unknown that a feeble no may mean a yes," and said, "In an act of passion, actuated by libido, there could be myriad circumstances which can surround a consent and it may not necessarily always mean yes in case of yes or no in case of no."
The decision was widely criticized as a dangerous precedent in a country that has struggled with high levels of sexual violence. In an op-ed in the Times of India on Tuesday, reporter Abhinav Garg wrote:
It is easy to see defence lawyers lapping this up in cases of rape and other sexual offences even where there the alleged victim has explicitly said no to argue that the accused may not have perceived it as a firm no. It is a slippery slope the court should have avoided stepping onto.
The victim's lawyer, Vrinda Grover, said they plan to appeal the ruling.