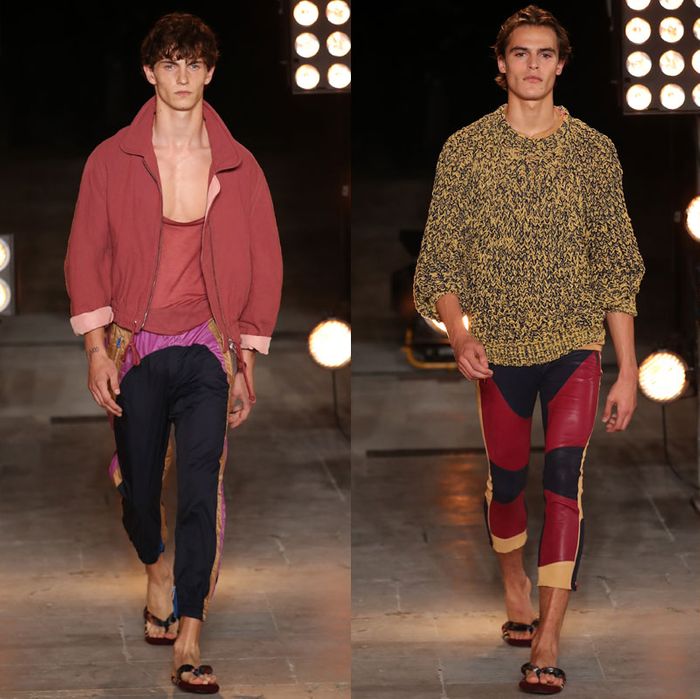 Isabel Marant Spring 2018.
Photo: Getty Images
Everyone wants to know how to live, breathe, eat, sleep, and dress like a French woman. But what about a French man?
On Thursday at Paris Fashion Week, the French designer Isabel Marant finally provided an answer with her spring 2018 show, which included men's looks for the first time since the brand was founded in 1994. Marant is known for her laissez-faire menswear-inspired clothes, and so it comes as no surprise that her menswear looks were inspired by feminine silhouettes as well, with skin-tight leggings, low-hanging tank-tops, and luxurious fabrics.
"It is not about transgender but more about unisex," Marant wrote in a press release. "I like the grey area of wardrobing, where pieces are exchanged."
Marant went on to name androgynous-yet-masculine men including David Bowie, Kurt Cobain, Mick Jagger, and Serge Gainsbourg as sources of inspiration for the collection. "All of these musicians have in common an attitude that oscillates constantly between the provocative and the iconic," she wrote. She also listed more contemporary French men like actors Rod Paradot, Louis Garrel, and Nicolas Duvauchelle, who possess a "very disarming naturalness with an irresistible personality."
Well, great. Now we have to figure out how to do everything like a French man, too.