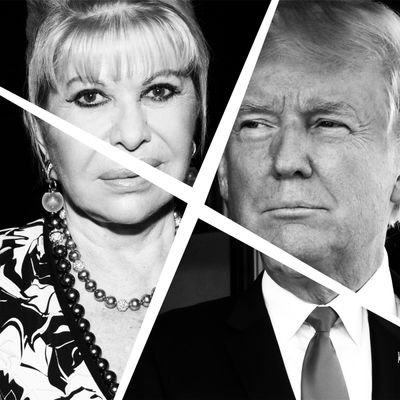 Ivana Trump, Donald Trump.
Photo: Getty Images
After her ex-husband won the presidential election, Ivana Trump told the New York Post that she wanted to be appointed ambassador to the Czech Republic. But now, the former model has changed her tune — although President Donald Trump apparently told her she could have the gig, Ivana says she decided to instead focus on doing whatever she wants.
"My ex said, 'Ivana, if you want it, I give it to you,'" Ivana, who was born in the former Czechoslovakia, told the Post during New York Fashion Week on Monday. However, the president's first ex-wife — who is currently working on a "nonpolitical" memoir about her children — prefers jet-setting over an "8-to-12 job," she explained.
"It's four years in Prague, so bye-bye to Miami, bye-bye to New York in spring and fall, bye-bye to Saint-Tropez in summer," she said. "I like my freedom and I want to do what I want to do, go wherever I want to go, with whomever I want."
Ivana added that she doesn't "need the prestige" of the position — even though she thinks she'd be a great ambassador. She said, "I would be great because I can negotiate, I am a business person and I can entertain. It's a lot of work, so I said no. They made me the honorary ambassador."
But even though Ivana is seemingly thrilled with her decision, other people are apparently less pleased. The Post notes that Czech president was reportedly "furious" at her for turning down the gig, and even called her a "coward." No word on how Callista Gingrich feels about this, though.