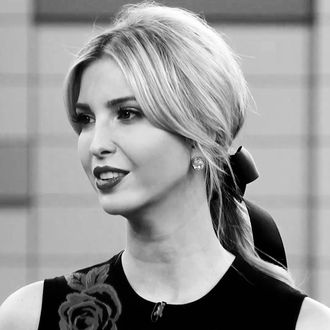 Ivanka Trump on
Dr. Oz
.
Photo: Courtesy of The Dr. Oz Show
Ivanka Trump's Dr. Oz interview won't be airing until Thursday, but clips of the appearance are already making the rounds online. Not only did she reportedly talk about Hillary Clinton on the medical talk show, but she also got candid about postpartum depression and yet again explained why she doesn't think it's her job to "moderate" her dad.
According to People, the senior White House adviser (with her hair tied back in a bow) told Dr. Oz that her role is "to inform, advise, and then ultimately execute" her father's policy ideas — not to "undermine" the president. "So, I'm not a decision maker," Ivanka said in one of the clips, adding that she tries "embrace the areas where there's commonality."
"I have my views and I share them candidly and as a daughter I have the latitude to do that," she told Dr. Oz. "Where I disagree with the agenda, I will share it with him quietly. I don't view it as my obligation to moderate. And I don't think anyone working for a sitting president should see themselves in that capacity."
As for the medical portion of the interview, Ivanka revealed that she had battled postpartum depression, ABC News reports. "With each of my three children I had some level of postpartum … depression," Trump told the doctor. "It was a very challenging emotional time for me."
And of course, she also used the interview to comment on Hillary Clinton's new book about the election. This "medical interview" sure covered a lot!