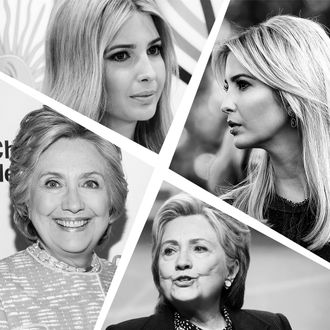 Hillary Clinton, Ivanka Trump.
Photo: Getty Images
Ivanka Trump may be in New York for the U.N. General Assembly this week, but the adviser to the president also made time to film an interview about life, politics, and Hillary Clinton on the medical talk show Dr. Oz.
As "Page Six" reports, Trump sat down with Dr. Oz on Monday to chat about living in Washington, D.C., and her battle with postpartum depression after the birth of her first child, Arabella. The otherwise mostly medical conversation then took a political turn, according to the gossip column.
Although the episode has not yet aired (it's slated to go up on Thursday, September 21), an audience member told "Page Six" that the First Daughter also used the appearance as a chance to comment on Clinton's new book about the election, What Happened.
Per "Page Six":
When asked how she felt about what was written in the book, Ivanka said she'd be curious to know what Hillary, 69, would do when she disagreed with husband Bill while he was president.
Another audience member wrote on Facebook that Trump also "joked about taking over her father's Twitter account." But where better to discuss political issues than on the same program where her dad shared his "personal health regimen" during the election?