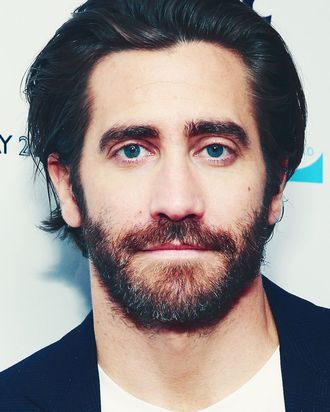 Jake Gyllenhaal.
Photo: Robin Marchant/Getty Images for Cantor Fitzgera
Jake Gyllenhaal, 36, is apparently hearing the tick-tick-tick of his biological clock on the press tour for his new movie Stronger. In an exclusive interview with People, he said he is ready to be a dad.
"I want to continue becoming more of an adult than I already am," he explained. "Hopefully with a family of my own." He added that babysitting his sister Maggie Gyllenhaal's two daughters has been a joyous experience: "It's fun to send them home with a lot of candy, because it was almost like, 'Enjoy it, Mags!'"
Gyllenhaal has been dropping hints like this for years now. In 2015, during his press tour for Southpaw, he told multiple outlets that he wanted babies. Referencing the fact that he played a dad in the movie, he told People, "I would love for it not to be fictional." In a more impassioned tone of voice, he told Entertainment Tonight, "I am not a father yet, but it is definitely a dream of mine, should I be lucky to have that to happen." And he really let it all out with the Inquirer, explaining, "Nothing gets me more excited than thinking about being able to have a family and to be a father and husband. There is no other purpose I can see in the world than that."
Someone help!