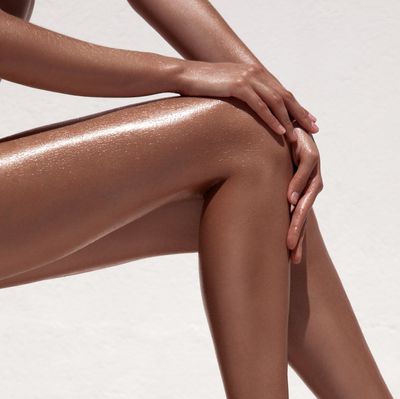 Photo: Yuriy Zhuravov/Getty Images/iStockphoto
"You must meet the Tom Ford of spray tanning," I was told at a recent breakfast. "Oooh," I said. I didn't want self-tanner or to go through the hassle of tanning myself, but I liked the idea of "Tom Ford" doing it. So a few weeks ago, I made an appointment to go to the W Hotel to meet James Harknett.
The lucky Harknett was christened the Tom Ford of fake bake by a British beauty editor on live television. "Honestly, I'm not sure why she called me that," Harknett says quite modestly when I finally meet him in person, at his hotel suite. And indeed, the resemblance isn't immediately clear. Harknett is a platinum blond who is casually dressed in flip-flops, a T-shirt, and cropped trousers ("I'm not good in knitwear. I feel weak in trainers," the other Ford once said). He has the easy charm of someone who is accustomed to making people feel comfortable even while they're stark naked, and he immediately offers me a glass of Champagne (the fashion designer Ford hasn't had alcohol since he became a father).
"What do you want to achieve with your tan?" he asks me. To Harknett, the potential of a tan is limitless. Certainly, it can insinuate that you were on vacation someplace tropical or that you're in excellent shape (or both!). But it can suggest emotional cues, too: You're happy, well-rested, confident, relaxed, invested in your wellness. "Some of my clients tell me they want to appear in front of their ex-boyfriend looking amazing! And I can do that," Harknett says. As with all beauty products, the promise is that when you look it, you begin to feel it.
While we drink the Champagne, Harknett lightly coats my wrists, hands, elbows, and ankles in drugstore body lotion. I head to the bathroom to disrobe and put on paper string underwear and then walk out to Harknett's tanning tent, a high dome-shaped structure. I step into it as Harknett helps me to attach sticky, fly-paper-esque flip-flops to my feet. Then the tan begins. Unlike prior spray tans I've gotten, which have felt like being firehosed with icy air, Harknett's comes out of the gun in a slightly warm breeze.
He waves what resembles a fancy water sprinkler can in even motions all over my body, wielding it so lightly that it feels like a fancy body mist. He's really quite dexterous with the spray tan nozzle, making soft X gestures, wide swoops and scoops, all from such a distance that I'm not sure it's even reaching me.  Apparently, he specializes in a "layering" technique. Unskilled spray tanners tan the body too much all at once, but Harknett gradually layers pigment, darker in some places, lighter than others, to achieve a more dimensional and even tan.
Apart from asking me to "stand here" and "bend this knee," he doesn't require me to contort my body in any strange shapes (which is more than I can say for certain waxers I've had). He spends a careful amount of time around my wrists, between the webs of my fingers, and my ankles, as these are the places that pick up color the easiest. And like a true gentleman, he doesn't make awkward eye contact with me as he examines my naked body to ensure he doesn't miss a spot. (He's had practice. I suspect it's much easier to avoid making eye contact with me than with his celebrity clients David Gandy, Zayn Malick, and Harry Styles.)
When it's all done, he finishes with a last blast of hotter air to dry the tan. "Take a look," he says. This is when I finally understand the Tom Ford comparison. My body has been Tom Ford–ized. I look sexier, like I belong in the Tom Ford world. I'm confident Harknett could have given me the oiled-up, glam tan worthy of the Ford Gucci years if I asked for it, but appropriately, he's given me the slightly subtler Ford-like tan of modern day — not too shiny, and still appropriate for someone that goes into an office.
My skin is about three shades darker. If I were a foundation, I would be named almond toffee caramel. It's not at all orange or brown. I look like I spent several weeks someplace in Mallorca with multiple infinity pools, but I also look more toned and trim, so I guess I didn't have any paella while I was there. The constellation of unglamorous mosquito bites on my legs is gone, and my skin looks more even, touchable, and smooth. My clavicle gleams, and he's even considerately left me some sexy tan lines, if you're into that sort of thing. I'm not quite sure, but I think Harknett's formula has tiny bits of mica in it so that I literally glow.
Harknett instructs me to avoid baths (very un-Ford-like behavior), long and hot showers, and saunas, and to moisturize often to protect my tan. Unlike other tans, the scent of DHA, the tanning agent, is not very noticeable — no top notes of rotten cinnamon cookies or cat pee. I shower later that night, and shockingly, my shower water doesn't look like I just washed a Kardashian down the drain. It runs mostly clear.
After Instagram Story–ing a headshot, I get several messages telling me that I look great, and more compliments throughout the week. Even though no one mentions my skin color, I know it's because of my tan. It fades evenly in about a week and I'm surprised that I'm sad to see it go. My life and my skin seem duller without it. I may not have ready access to the Tom Ford of tanning all the time, but, at the very least, I'll have Tom Ford bronzer.