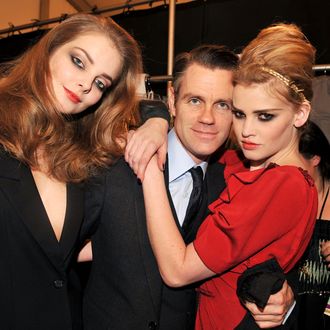 James Scully.
Photo: PATRICK MCMULLAN/Getty Images
In February, longtime casting agent James Scully did what most people do these days when they've had enough: he posted a blast on Instagram. Plenty of social media call-outs go by unnoticed, but this one led two of the most powerful fashion companies in the world to publicly announce their commitment to change. Here's how it happened.
Scully's February post was directed at Balenciaga casting directors Maida Gregori Boina and Rami Fernandes, who he said made over 150 models wait in a dark stairwell for three hours during Paris Fashion Week while they went to lunch. In the same Instagram caption, he also revealed that Lanvin casting agents allegedly didn't want to see women of color, and that another big house was trying to sneak 15-year-old girls into Paris for its show. The post quickly went viral.
Unfortunately, this was neither the first nor the last time that Scully would report the abusive, racist, and overall unethical treatment of models. In December of 2016 at the Business of Fashion VOICES conference, he recounted shocking tales from his three decades in the business, some of which still moved him to tears. But Scully was one of the first whistle-blowers the modeling industry had ever seen.
"Please keep sharing your stories with me and I will continue to to share them for you," Scully concluded in his Instagram caption this winter. "It seems to be the only way we can force change and give the power back to you models and agents where it rightfully belongs."
Within hours of uploading that post, Scully found himself in conversation with representatives from Kering, one of Europe's biggest fashion conglomerates and Balenciaga's corporate owner. They were ready to listen, and he brought with him thousands of damning direct messages from equally fed-up models. Kering immediately axed Biona and Fernandes and told Scully that they also wanted to sit at the table with LVMH, which owns huge houses like Louis Vuitton, Christian Dior, Céline, and Givenchy. LMVH board member Antoine Arnault, who is the current CEO of Bertuli, even responded personally to Scully's post on Instagram in support of his cause.
Six months later, the fashion industry finally saw the fruits of these conversations come to light on Wednesday morning, when LVMH and Kering revealed their "Charter on Working Relations With Fashion Models and Their Well-Being" on the first day of New York Fashion Week. Among other things, these new stipulations — which are the first of their kind — prohibit LVMH and Kering brands from casting models under 16, and ban the size 32 for women and size 42 for men from casting requirements, which translates from the French measurement to sizes zero and 34, respectively.
The charter also requires a significant monetary commitment from LVMH and Kering, and included plenty of other stipulations like a dedicated psychologist/therapist at the models' disposal and transportation home after 8 p.m. And it made specific requirements about labor wages — not necessarily a given in an industry where models often work for nothing but clothes and promises of "exposure." Scully says that most of the charter's clauses were inspired by specific incidents, some that he and other whistle-blowers witnessed and others that they'd heard about through the years.
"LVMH and Kering are the two biggest, most important brands in the world and they can set an example," Scully said over the phone the morning after the charter was announced. (And after he'd worked on the Tom Ford show the previous night.) "They do not want this to happen again," he added, referencing the Balenciaga incident. "Everyone realizes how out of control this got, and the importance of this."
As Scully details in his Business of Fashion talk, this bad behavior was created — and sustained — following a series of shifts in the industry over time. The replacement of models with celebrities on the covers of Vogue in the '90s (and subsequently all other magazines) put more pressure on models to succeed on the runway. This also made magazine spreads more coveted, which meant they could be used as a bartering chip. The creation of Style.com then proliferated a sameness in the industry, which is why Prada's dangerously pre-pubescent, Lolita-esque look soon became standard for most runway shows.
According to Scully, though, the real abuses of power began when stylists and casting directors started gaining more influence in the industry. If all the shows are controlled by a handful of stylists, then they start forming teams (or "tribes," to use an industry term), and models become their pawns.
"Competition between casting directors, like, 'Oh I found her first, so she can walk this and not that,' is what's hurting the business, and also what started this abuse," Scully explained. "People think they own these girls."
Perhaps this is why the former Balenciaga casting directors thought they could get away with trapping 150 models in a dark stairwell for three hours during Fashion Week; many of these models missed their other castings that day.
This new charter not only sets concrete rules prohibiting such behavior, but also takes some of the power away from those who were abusing it, giving more agency to the models themselves. Still, policing a broken system can only help so much. In the end, it's going to need a real fix in addition to more brands signing the charter.
"Outside of the charter, I would also like to see us just stop this flow of girls," said Scully. "Personally, I don't understand this whole idea of having 20 new girls every season that just disappear. We can't sustain a business on rotating girls out, instead of really supporting a group of girls who already work. But if there's going to be a flow of girls, at least this charter will protect them from being abused for the one season they get to work."
As dark as this may sound, Scully remains optimistic. And he's committed to seeing his charter through: He'll meet with the same committee in six months to check in, and then annually after its first full year in practice. Scully is also working with LVMH and Kering to get a complaint hotline set up so that models and bystanders can anonymously report bad behavior. This will quite literally give a voice to those who didn't feel like they had one before. Plus, it holds everyone accountable, not just Scully.
Even if you're not in the fashion industry — and even if this particular draft of the charter isn't the end-all-be-all of bad behavior — Scully's story proves that one person really can get major companies to listen — as long as they come armed with thousands of social media testimonials.
"I got so many notes from girls yesterday saying, 'I wish this had been done ten years ago, because then I would have been able to stay in the business; I would have been able to say what happened to me.'" said Scully. "These girls have had to swallow this for years. Now, this new generation doesn't."