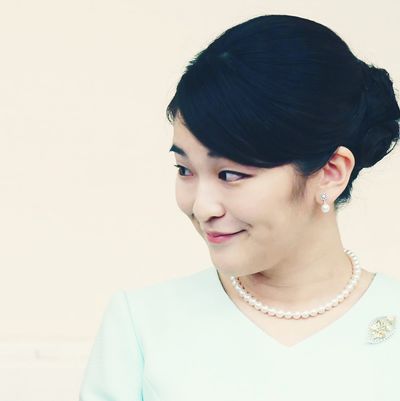 Lovebirds Kei Komuro and Princess Mako.
Photo: Kyodo
Japanese princess Mako of Akishino, 25, the oldest grandchild of Japan's Emperor Akihito, has officially announced that she will give up her place in Japan's Imperial Family to marry her college boyfriend, Kei Komuro, 25, a commoner, according to the AP.
Japanese princesses are required to leave the Imperial Family upon marriage to a commoner per Imperial law. However, Imperial law requires the crown be passed to men, so it is unlikely she would ever take the throne even if she stayed in the family. (Princess Mako's aunt, Sayako, the only daughter of Emperor Akhito, gave up her title in 2005 when she married a commoner.)
And as more women leave the family, there are now new concerns about a shortage of male heirs to maintain the 2,000-year-old Imperial bloodline. There is now discussion about changing the law to allow women to ascend the throne, as well as stay in the family and produce more male heirs, the New York Times reported earlier this summer. But so far, according to the AP, Japanese government officials have avoided the issue.
In the meantime, during a press conference to announce their engagement, Kei Komuro and Princess Mako sounded like a pair excited to finally get married.
The couple met five years ago at Tokyo's International Christian University, when she sat behind him at a campus meeting, and their engagement has been in the works for years.
"I said to her, 'Let's get married' in December 2013. I recall saying that when we went for a stroll after having dinner together in Tokyo," Komuro told reporters.
"First I was attracted by his bright smiles like the sun," Mako explained.  But she said she came to appreciate that he is: "sincere, strong-minded, hard worker, and he has a big heart."
Their wedding is expected to take place next fall.