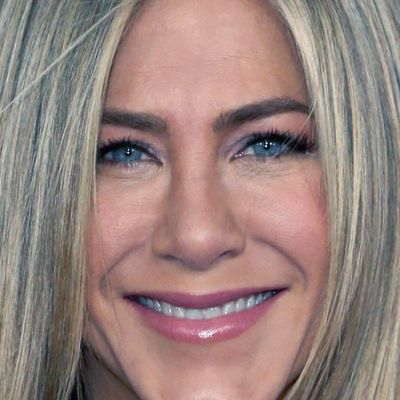 Jennifer Aniston.
Photo: Frederick M. Brown/Getty Images
Jennifer Aniston has been extremely fine and okay and great for some time now — she's married to the artfully manscaped Justin Theroux, she's working on a show with Reese Witherspoon, and her ex-husband Brad Pitt is in the process of divorcing Angelina Jolie, the woman he started seeing while he and Aniston were still married, a sad fact that must send a shiver of schadenfreude up Jen's spine now and again. But Aniston doesn't want to keep all this fine and okay and great energy to herself, she wants to share it with others who may tragically be less fine. How? As she told Amy Sedaris in an interview with Harper's Bazaar:
My dream is to open a wellness center. I have a fantasy where you have this beautiful space with facialists, rotating workouts, meditation classes, and a café with recipes that are healthier versions of delicious foods so you're not deprived. I'm working on it in my brain. Not to sound all woo-woo, but if you go out into the world with inner peace, you're more joyful. There's a life's-too-short policy that I now have with my work; no negative Nancies.
All of that sounds (much like Aniston herself) okay and great, but the Aveeno spokesperson also shared some of the potential risks associated with attaining inner peace through facials:
I had a facial and woke up later with what looked like cystic teenage acne. It was an intense thing to look at Justin's face. He was like, "What is happening?"
Alarming. But that probably wouldn't happen at Jen's wellness center of course, because she's fine, it's fine, everything's extremely fine.