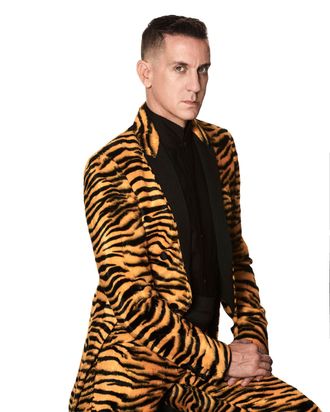 A series examining the outer edges of style.
Jeremy Scott's eponymous brand is turning 20, and he's feeling nostalgic. "I've been delving down my own memory lane quite a lot lately," he says. "Sometimes it's like, Oh no, I wish I could have done that better. Or sometimes it's like, Wow, I was really right on. It's always a subjective thing, fashion, tied to everything that's going around it at that moment."
And Scott has never let a moment pass him by. Earlier this month, he showed an exuberant collection at New York Fashion Week, and last Friday he caused a sensation in Milan with a flower-power Moschino show (he's the creative director) in which Gigi Hadid dressed as a giant bouquet.
Over the course of the past 20 years, Scott's collaborated with everyone from Adidas (remember those wing high-tops?) to SmartCar to Magnum Ice Cream to Ugg, for which he did a blinged-out capsule collection replete with flames, couture beading, and the catchphrase "Ugg Life." (Scott admits to being an undercover Ugg wearer; somehow, as usual, it all makes its own kind of sense.) He's also friends with everybody from Miley Cyrus (he just dressed her for her comeback album cover and the VMAs) to Rihanna to Katy Perry. Celebrities bond with him because he's genuinely one of the nicest people in fashion, though critically, at times, he's also one of the most loathed.
"I want to make something that is desirable and exciting and has an urgency to it because it's something you haven't seen before," Scott says of his designs. "That's why my work is so bold. And why it's also extremely beloved and sometimes not. I've never been a middle-of-the-road kind of guy."
He's learned to take the criticism in stride. "I'd rather take all the extreme love that I get, with some hate, than have — I don't know — a wishy-washy reaction." Part of the secret? Humor, he says, is a tenet of his work, whether he's designing for the rock-and-roll girl at Jeremy Scott or the "over-the-top Italian glamour woman" at Moschino.
As he prepared his Milan show, the designer spoke to the Cut about politics, the one thing he'll never wear, and the secret to throwing those legendary parties. Read on for the complete interview below.
What are some coffee-table books you'd be proud to display?
I have such a huge book collection that I had to specially make a big bookcase just to fit a portion of them in the studio. I have the very big Helmut Newton Sumo book that was a gift from Mr. Lagerfeld — that one's more of a display because it's just so giant. Sometimes my own book is the only one on display, which is maybe quite egotistical of me. We use it a lot because I'll have to show people something that's in there. It's definitely a pride and joy of mine.
I've been reading this one called Culture of the Copy, Striking Likenesses. It's a bit nerdy. I'm also reading a book about Edith Head. And I've been trying to start The Life and Death on the New York Dance Floor, which was a book given to me by Pablo [Olea, Scott's head of PR].
What is your favorite song on your playlist right now?
Since it came out, "Younger Now," by Miley Cyrus, with the album cover featuring the look I created for her. I listen to a lot different things: '60s music, '50s music, contemporary hip-hop, old-school hip-hop, contemporary pop. I like to listen to the car radio while I drive. Part of my work is connecting to the world, our culture, and there's a lot of inspiration I get from that. It's fascinating how a silent room changes and becomes full of life when there's music playing.
If you were a car, what kind of car would you be?
I drive a G-Wagon, and I feel very bonded to it, but I don't think of myself physically built like a G-Wagon, because they're really bulky and blocky. I guess I would like to think that I was more like an '80s, sinuous Corvette. They had those beautiful lines and curves — they're so sensuous.
How do you thank people for a gift?
Usually a hug and a kiss. I guess I thank them with my affection.
Do you prefer mood lighting or natural light?
For work, in general, I'm more into natural light. But I like flying Virgin America because it's got mood lighting and it's very conducive to going to sleep. I do a lot of red eyes with them.
My house is mostly glass, so during the day it's got natural lighting and at night, because it's not too well-lit, it's conducive to going to sleep. I have a challenging time going to sleep. I need to employ every trick there is to help lull myself into a slumber.
What is something that you would never wear?
A bra because I don't have boobs.
What's a trend that you like right now?
I'm into the trend of taking down Confederate statues. First of all, why are there even statues of someone who was, for lack of a better term, a loser? And this is also a statue of someone who tried to rip apart the nation. They tried to secede from the United States, so why are we celebrating that? I find it extremely fascinating.
What's your dream vacation?
I've always wanted to go to the Maldives. It just looks so peaceful and remote. Part of the problem is they're so far away. I don't really ever get much vacation time, and I try to be careful not to need a vacation after my vacation because I usually have to go right to work. The thought of being jet-lagged — it's not ideal. But I'll figure out the right moment and sneak off there, swim those blue waters one day.
What other decade would you like to live in and why?
There's a lot of bad things about the 1950s, but I think there's also this American optimism that seemed so amazing. I would love to experience what it felt like to buy into while it was happening. Like, Oh, wow! We're going to the moon and now there's TV and cars and rock and roll. It seemed so optimistic and effervescent.
What's the secret to throwing a good party?
Good music and a cool mix of people and an unlimited open bar. If no one's thirsty, you've got an amazing party.
What's one way your taste has changed since you were a teen and one way it's stayed the same?
I've always worn vintage clothes, that's for sure. What's one thing that's changed? That's harder. Maybe I'm able to appreciate things that are more sophisticated. They're still exuberant, but maybe it's a more subdued take. As a younger man I was more excited by the shinier objects.
What is your guilty pleasure?
I did this collaboration with Magnum Ice Cream and now I crave it all the time. I'm trying to be thoughtful about what I eat for vanity purposes. But they have this dipping bar at the locations where you can make your own. You can take vanilla ice cream and dip it in, say, chocolate, white chocolate, dark chocolate, or milk chocolate, and then you can put all these different toppings on it — anything from Himalayan sea salt to dried orange candied peels.
What are your favorite accounts to follow on Instagram?
I pretty much follow just friends, but I like Overheard LA, which is hilarious. They do a really good job capturing the absurdities of living here.
What's the last show you binge-watched?
Probably Stranger Things; I'm waiting for it to come back. I had to binge-watch the first season of Empire because I kept hearing people talking about it. I need to watch The Handmaid's Tale. I watched one episode of Black Mirror and I was planning to binge-watch it, but time has not been on my side.
What's your favorite pair of jeans?
I just got some Ksubi jeans that are all ratted and torn-up-y.
T-shirt?
A T-shirt I got at the flea market that has a poster of Edie Sedgwick in Ciao Manhattan on it.
Pajamas?
My favorite pajamas are the same vintage ones from when I was 14.
Flower?
Bird of Paradise. They're so beautiful and so unusual. I'm really excited that my birthday cake came with one on it.
Chocolate?
I love this milk-chocolate–covered popcorn from a place called Panache in Kansas City. I get it every Christmas from my family. It's a tradition. I keep some in a jar in the refrigerator so that I have it whenever I want a little chocolate fix.
Fragrance?
Still the fragrance I created myself for when I did a launch with Adidas, with the bottle that looks like my wing shoe.
Linens?
I got some new sheets from that company Signoria Firenze and I love them. They're so cozy. Those are actually gray and generally, I have black sheets.
Lip balm?
Kiehl's.
Candle?
I'm not a huge candle connoisseur, to be truthful, but people get me a lot of candles. There's one here next to me that's called "Hollywood." It's Astier de Villatte.
Pen to sketch with?
It's a big pen, a felt situation. Paper Mate Flair, the black one.
If you buy something through our links, New York may earn an affiliate commission.