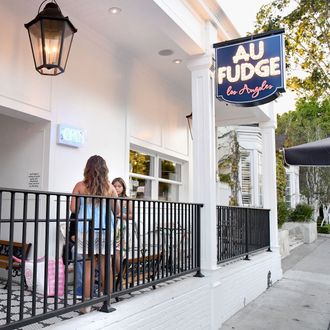 Maybe one too many Hey Ma Mojito mocktails.
Photo: Jeff Kravitz/FilmMagic
Workers at Au Fudge — Jessica Biel's kid-friendly West Hollywood restaurant where elites can park children in front of food while they go enjoy a $14 "MILF" cocktail — are suing the restaurant for a variety of labor violations, the worst of which is allegedly $430,000 worth of wage theft. E! News reports that nine current and former employees claim the A-listers' hangout unlawfully converted tip money, denied them overtime and meal breaks, and stole "hundreds of thousands of dollars in gratuities" left by private-party customers.
Biel's first foray into restaurateur-ship isn't going swimmingly. It's hosted some big celeb names, sure — even Jimmy Kimmel likes how you go in, and "they check your kid like a coat." But they had a chef quit, then trouble obtaining proper permits (maybe something to do with the "day care meets bar" setup?), and "Page Six" famously dubbed it "SoHo House for kids." For some reason, the official Instagram account also got disturbingly sexual for a while. Biel admitted in January that it turns out, running a restaurant is "way harder" than being in Hollywood, and that Au Fudge was "definitely not making money" yet, even though it had paparazzi-proofed the dining room with shutters and curtains.
Now add a new lawsuit enumerating "various illegal payroll practices" to this list. Au Fudge says it can't comment on pending litigation, and in fact its attorneys haven't had a chance to see the suit yet, but that the restaurant "looks forward to defending itself in Court."