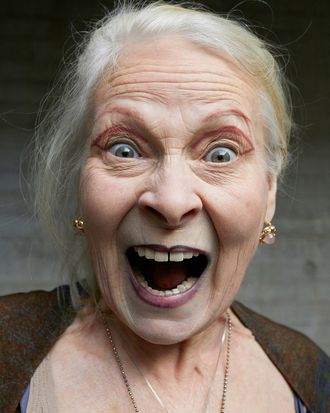 Vivienne Westwood.
Photo: © 2017 Juergen Teller, All Rights Reserved
When you've been friends and collaborators for over 20 years like Juergen Teller and Vivienne Westwood have, sometimes you just find yourself taking nude photos at home on a Sunday evening. Such was the case for one of many iconic images that the 53-year-old, German-born photographer has captured of the fiery, 76-year-old, British fashion designer, some of which are being published for the first time in a new book of campaign images from InOtherWords.
Teller has had a prolific, three-decade-long career in fashion, shooting for magazines like The Face, Vogue, W, i-D, and System, as well as the campaigns for brands like Céline, Louis Vuitton, Marc Jacobs, and of course, Vivienne Westwood. (It was his idea to have her star in her own campaigns.) Westwood, who got her start dressing the Sex Pistols, would later add Pamela Anderson into her crew of collaborators, plus her partner, Andreas Kronthaler — both of whom also became Teller's muses, and are featured in the book.
With their provocative, organic, and overall punk-rock attitude toward creating art, Teller and Westwood are a match made in fashion heaven. See a glimpse at ten years of their relationship in their new namesake book, as well as on view at the Vivienne Westwood New York flagship starting during Fashion Week this September and ending mid-October.