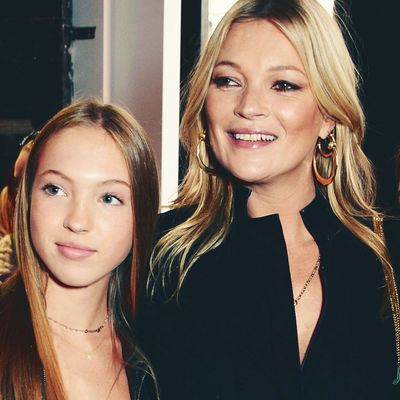 Photo: Richard Young/REX/Shutterstock/Richard Young/REX/Shutterstock
Most 14-year-olds would rather die than be caught with their mom at a cool event — but Lila Grace Moss Hack isn't exactly your standard teenager. Kate Moss's daughter made an appearance today at the Topshop show. Sitting front row with British Vogue's new editor-in-chief Edward Enninful sandwiched between them, the two Moss women were having a blast.
As the Pet Shop Boys (yes, them again!) blared, Kate was getting really into the scene. She drank Champagne, chatted with Philip Green, and gave her daughter a thumbs-up at one point. Mother Moss even sang along to the soundtrack, which was the best of late-'80s/early-'90s New Wave, featuring the likes of New Order and Soft Cell. Meanwhile, Daughter Moss was being her teen self and chatting up a storm with the friend sitting next to her: Stella Jones, daughter of the Clash's guitarist Mick Jones.
The clothes (which are available now) paired perfectly with the party-ready soundtrack. There were feathery dresses, sheer tops, and plenty of short skirts for the girl who is ready for a night out on the West End of London. Coupled with a stellar cast of models including Adwoa Aboah, Hailey Baldwin, Joan Smalls, and Jourdan Dunn, who closed the show, there was one girl in particular who stood out: Elfie Reigate. Reigate is the first model signed to Moss's new agency and a face to watch. Could we see a British Vogue spread with Lila Grace and Reigate? Start placing your bets now.