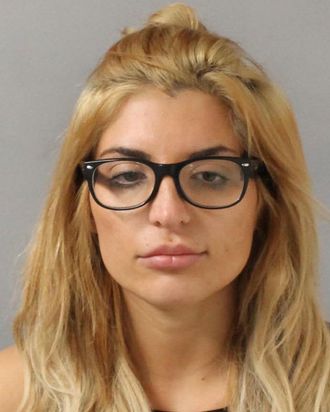 Katie Quackenbush.
Photo: Metro Nashville Police Department
On Monday, aspiring singer-songwriter Katie Quackenbush, 26, was charged with attempted murder in Nashville, for allegedly shooting a homeless man after he asked her to move her Porsche.
As the Washington Post reports, around 3 a.m. on Saturday, August 26, Gerald Melton was trying to sleep on a sidewalk in the heart of Nashville's entertainment district. But the 54-year-old homeless man was kept awake by the music and exhaust coming from Quackenbush's nearby Porsche SUV, so he asked her to move her vehicle — and the pair began arguing. Melton told police that he then walked back to the area where he had been trying to sleep. Per the Post:
Then, the driver, a 26-year-old woman named Katie Quackenbush, allegedly stepped out of the Porsche and fired two gunshots at Melton, hitting him in the stomach, police said. She then got back in her SUV and fled the area.
Quackenbush — who has apparently released music on YouTube and iTunes under the name Katie Layne – was charged on Monday, and was booked into jail and released on a $25,000 bond. Meanwhile, Melton remains "critically wounded" in the hospital, according to police.
The aspiring singer's father — Jesse Quackenbush — is a high-profile defense attorney in Texas, who has been speaking out against the allegations, the Post notes. He claimed in a statement that his daughter "was actually acting in self-defense" and that "she's a victim in this more so than Mr. Melton."
However, this is not Quackenbush's first time being linked to a violent incident. In December, she was charged with misdemeanor assault for hitting a woman in the head with a glass, the Tennessean reports — but that case is still pending. She was also arrested four years ago for misdemeanor domestic assault after allegedly hitting a woman, though that charge was later dropped, according to the Post.
A spokesperson for the Nashville police told the Tennessean that neither Quackenbush nor the friend who was with her initially reported the incident to the police — instead, someone who found Melton wounded alerted the authorities. The police department apparently didn't hear anything from Quackenbush until the start of the next week, when her attorney called the prosecutor's office.