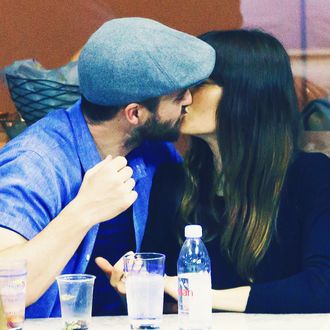 Justin Timberlake and Jessica Biel K-I-S-S-I-N-G.
Photo: Splash News
Now that Labor Day weekend has come and gone, summer is, for all intents and purposes, over. Celebrities don't know that, though! For them, life is summer and weekends all the time, and they act like it. Our small consolation is the fact that we can gossip about what they do, and this weekend, they made out with each other with wild abandon. Who did the kissing? And was the kissing appropriate or sort of scandalous? Find out now.
Scarlett Johansson and Colin Jost
The recently divorced Scarlett Johansson totally made out with Weekend Update anchor Colin Jost, again. This time, "Page Six" spies caught the couple "kissing in the rain and dancing" at a Labor Day party in the Hamptons for rich and famous people hosted by Discovery Communications CEO David Zaslav. This is sort of scandalous, in that they apparently kissed in front of many people including Diana Ross and Katie Couric.
Justin Timberlake and Jessica Biel
This legally married couple lightly kissed each other at U.S. Open in New York on Saturday. If you don't believe me, see the photo above. This is not scandalous, except for it is sort of scandalous, because who took charge of Au Fudge during the holiday weekend?
Lizzy Caplan and Her New Husband
Masters of Sex (and Mean Girls) star Lizzy Caplan got married to producer Tom Riley over the weekend, so they definitely made out, and it was appropriate. According to People, the wedding took place in Italy. According to Instagram, Riley is a little jokester.
Katy Perry and Orlando Bloom
Former lovers Katy Perry and Orlando Bloom were spotted paddle boarding at a California beach over the weekend, where they probably kissed. A source tells E! News exclusively, "Katy Perry and Orlando Bloom are back together. They never stopped loving each other. They are both working on making it right this time." Wow. This is definitely scandalous, but not as scandalous as the time Bloom went paddle boarding in the nude.
Alicia Vikander and Michael Fassbender
The Light Between Oceans co-stars have been dating since they met on set in 2014, and now, according to The Sun, they are getting married. So, odds are they kissed this weekend. The Sun reports the wedding will be a big blowout in Ibiza next month. I guess this is nice?
Selena Gomez and the Weeknd
Selena Gomez posted a "rare" photo of her beau the Weeknd on Instagram last night, which tells me one thing: They fully kissed at some point in the last three days. This is baseline scandalous, because the Weeknd used to date Gomez's sort-of friend Bella Hadid, and Gomez will never escape the drama.
Chris Evans and Dog
The Captain America star reunited with his dog Dodger over the weekend. Cute!