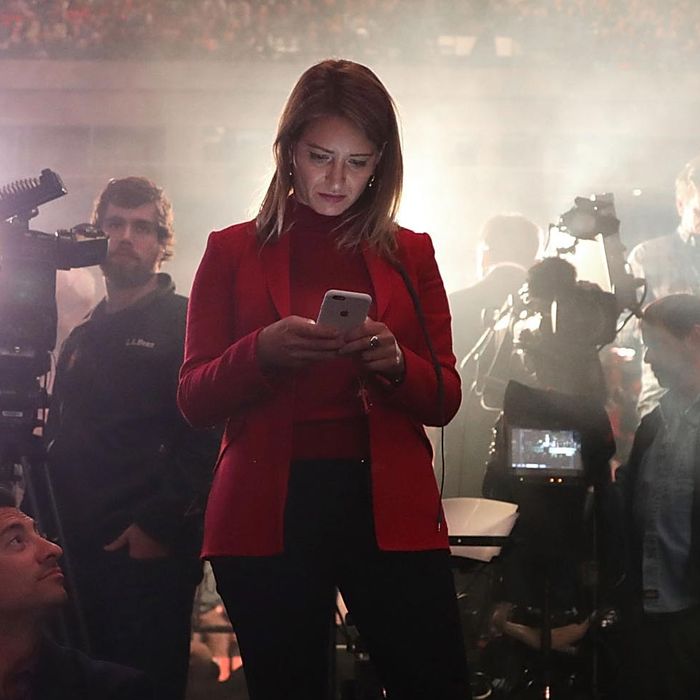 Katy Tur at a Trump rally.
Photo: Chip Somodevilla/Getty Images
Donald Trump's campaign was remarkable for many reasons, one being his constant hostility toward the journalists covering him. This was perhaps most evident in his treatment of NBC's Katy Tur, whom he dubbed "little Katy," told to "be quiet" during an on-camera press briefing, called out several times at campaign rallies, leading her to hire extra security. "It is a unique experience to have … a stadium of ten-plus thousand people booing you," Tur said at the time. "And it's especially unique when they're actually saying your name and looking directly at you."
Tur has written previously about her experience covering the Trump campaign, but in her new book, Unbelievable: My Front-Row Seat to the Craziest Campaign in American History, out today, she gives more detail about her interactions with Trump — including the time he forced a kiss on her before a Morning Joe appearance.
"Before I know what's happening, his hands are on my shoulders and his lips are on my cheek," she wrote. "My eyes widen. My body freezes. My heart stops."
Her first thought after the incident says a lot: "F—. I hope the cameras didn't see that. My bosses are never going to take me seriously."
She also describes the more mundane trials of being a woman on the campaign trail, which she bluntly calls "a pain in the ass." "You have to look 'good.' Your hair needs to be neat — not just combed through, but 'done,'" she writes. "Your face needs to be enhanced. Foundation, powder, eye shadow, mascara, lipstick, blush, contour. Your clothes have to look sharp, too. And you can never wear the same thing twice — at least not in the same week." Naturally, there's a Spanx shout-out:
"The hotel mirrors of America know we all need some curve correction. But try to take yourself seriously as you open a package labeled, SHAPE MY DAY HIGH-WAISTED GIRL SHORT."
And she goes in depth about how it feels to become a target of the candidate you've been assigned to cover:
What I don't get are the little old ladies in powder-pink Trump hats calling me a liar. I don't get the men in hillary sucks—but not like monica T-shirts. I don't get why protesting a broken political system also means you need to protest the very notion of objective truth. Because of Trump's war on the media, networks have required a traveling security detail except for Fox News (which hasn't been as demonized) and CBS (whose main correspondent is a guy who looks like he might be named Major—and is). A couple of weeks ago an advance staffer at a rally told me not to worry. "Save for Trump," he said, "you're the most watched person in the room. The Secret Service always has eyes on you."




I worry.
Tur's book has received lukewarm reviews so far. In a piece for the New York Times, Jill Abramson criticizes it as "dashed off" while also praising its "rich examination" of "outrageous sexism." Meanwhile, the Washington Post holds that some details are insightful, while others are wholly self-serving. But her most devoted critic weighed in around nine o'clock this morning: