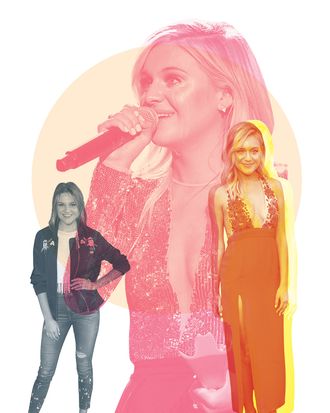 Kelsea Ballerini.
Photo-Illustration: Stevie Remsberg. Photos: Getty Images
This week's Wellness Theories features 23-year-old country-music star Kelsea Ballerini. Born and raised in Tennessee, Ballerini began her career as a teenager, and in 2017 is already getting personal shout-outs from Taylor Swift. Her new single, "Unapologetically," dropped this August and is the title of her upcoming studio album, which is slated for release later this fall. While on the road, Ballerini talked to the Cut about her love for Drake, Soul Cycle, cheat days filled with Chick-fil-A and red wine, and handling her workout in the Southern heat.
How I start my mornings: Coffee. I am not a real human being until I have coffee. I live on the road, so I'm a Keurig girl. But my favorite thing in the world is cold brew from Starbucks.
What I eat for breakfast: I'm bad about breakfast. When I'm home, I usually eat a veggie scramble, but when I'm on the road I normally skip it and fuel through with coffee.
How I work out: I have a trainer when I'm home in Nashville. Her name is Erin Oprea and she also trains Carrie Underwood and a bunch of other people. We do a lot of strength training and then when I'm on the road, we do circuits — sometimes with my band — or we'll go to a class that's close by, like if there's a Soul Cycle we'll go offsite to do that, which is really fun.
What I listen to when I work out: I usually listen to rap or EDM or anything that makes me want to actually push myself. I love anything Drake; I like Kendrick [Lamar] a lot. As for EDM, I like Zedd and Chainsmokers; anything with a beat drop.
What wellness means to me: Taking care of your health, body, and mind.
How wellness has changed for me over time: Ever since I started traveling a lot, I learned that if I don't take care of my body, then I'm not going to be my best on tour or in the studio. When I take care of myself, I'm just better: I'm better as an artist and a person.
How I approach nutrition: I try to eat really health 80 percent of the time, and then the other 20 percent of the time I'm eating cookies, pizza, and wine. I'm a red wine person.
What I eat when I'm alone: Chicken nuggets from Chick-fil-A or cheddar-jack grilled cheeses. Those are my two guilty pleasures.
My wellness struggle: Just making my workout is a constant struggle, especially when it's super hot outside or you only have half an hour and you're like, 'Oh, do I really have time?' That push to actually make myself do it.
My wellness advice: You have to find what works for you and not compare your health or your workouts or your eating patterns to anyone else's, because everyone is different and everyone's bodies are different. Learn what works for you, and be happy with that.