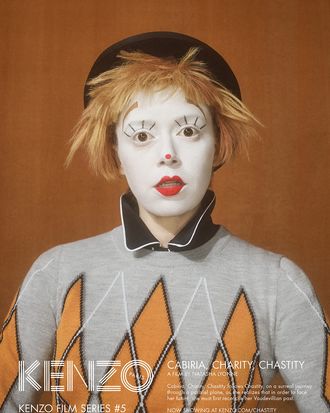 New York Fashion Week can certainly feel like an absurdist film sometimes, and this was made all the more clear on Wednesday night, when Natasha Lyonne premiered her new short film for Kenzo, "Cabiria, Charity, Chastity" at the Public hotel.
Starring Maya Rudolph as Chastity, an actress with a vaudevillian past whose preferred tongue is gibberish, we follow her character on a surreal journey through a parallel plane, as she encounters actors Fred Armisen (Lyonne's real-life boyfriend), Macaulay Culkin, Greta Lee, Matt Lucas, James Ransone, and Leslie Odom Jr. along the way.
"It's a very specific language that takes years to learn," Lyonne said with a smirk about Rudolph's fluency with gibberish at the premiere party. She added that she wrote the part with Rudolph in mind.
Kenzo creative directors Humberto Leon and Carol Lim have known Lyonne for years, and this is their fifth original film for the fashion house. But this was actually Lyonne's directorial debut — a risk she was only willing to take in such comfortable, trusting company.
"As an actor, the work is somebody else's, ultimately," she said. "You're not quite given the opportunity to have exposure to your own insides. Seeing this movie, it's almost like I cracked open my skull. I always knew those images were hiding and lurking in there; and were that weird. Now, I have hard evidence to support my case."
Watch the full film, below.