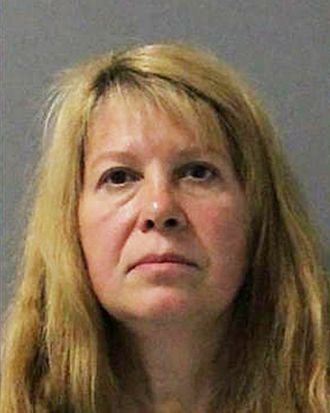 When Marlene Warren answered the door of her Wellington, Florida home on May 26, 1990, she found someone dressed in a clown costume handing her flowers and balloons. Moments later, they shot her in the face.
Marlene died two days later, at the age of 40. The killer was never found. But on Tuesday, 27 years after Marlene's death, police made a breakthrough in the case: The Palm Beach Post reports that they arrested 54-year-old Sheila Keen Warren in Virginia and charged her with first-degree murder.
Sheila was a suspect from the start; then known as Sheila Keen, she worked for Marlene's husband, Michael Warren, at his used-car lot and the two were rumored to be having an affair. Marlene and Michael were also said to have had a troubled marriage and she reportedly told family that she was afraid of him killing her. It's unclear if Michael will be charged for the murder as well.
Sheila and Michael denied the affair to investigators, but ended up getting married in 2002.
Per the Post, various bits of information linked Sheila to the crime back in 1990:
The balloons at the scene were only sold at a Publix at Community and Military Trail near where she lived. The salesperson described the woman who bought the items as having long, brown hair, like she had. The balloons were bought less than an hour before the shooting.




At a nearby costume shop, salespeople there identified Warren specifically as the woman who bought a clown costume just days before the shooting.




Additionally, detectives connected the Chrysler convertible to Michael Warren's car business through a stolen car report filed just a month before. Inside the car, they found orange fibers, possibly from the orange clown wig, and brown hair.
The case was reopened in 2014 and further DNA analysis, now more advanced than it was in 1990, was conducted.
"Any murder's horrific. It doesn't matter whether you're wearing a clown costume or not. Taking another person's life is a horrific incident," Palm Beach County Sheriff's Sergeant Richard McAfee said during a news conference following the arrest. "It just took us 27 years to bring closure to the victim's family."