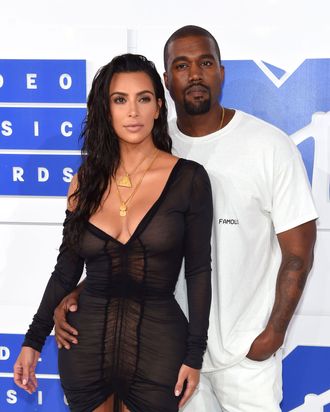 Kim Kardashian and Kanye West.
Photo: Jamie McCarthy/Getty Images
Kanye and Kim Kardashian West are expecting their third child, according to People. Because Kim struggled with high-risk pregnancies due to placenta accreta in the past, the couple decided to hire a surrogate.
"The entire family is over the moon. Kim had been looking for a surrogate for months until recently when she found the perfect candidate," a source told People. "Given her health scares in the past, Kim felt the need to hire a surrogacy agency that helped serve as the liaison in finding a healthy woman who would be a great surrogate option for her and Kanye. Both of them have been super involved in the process."
According to Kim, the couple's two other children — North, 4, and Saint, 1 — don't really get along, so maybe a new kid will help shake up the family dynamic.