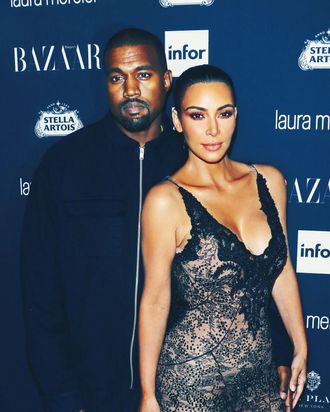 Kim Kardashian and Kanye West.
Photo: Jim Spellman/WireImage
Though they have yet to confirm the news themselves, several outlets have reported that Kim Kardashian and Kanye West have hired a surrogate to carry their third child. Last week, TMZ reported that the California-based surrogate is pregnant with a baby girl, and that she will give birth sometime in January. (A rep for Kardashian declined to comment.) The surrogate will reportedly receive $45,000 for her services, which struck some as a bit low: Shouldn't a celebrity surrogate make a celebrity salary?
To get the answer to that question and learn more about the VIP surrogacy process, I chatted with Teo Martinez, the CEO of the popular surrogacy agency Growing Generations, and Stephanie Caballero, an attorney and the founder of the Surrogacy Law Center in Carlsbad, California. Both have years of experience in the "assisted reproduction" business (which includes surrogacy and egg, sperm, and embryo donation) and have worked with celebrity clients.
How Much Do Celebrity Surrogates Get Paid?
According to TMZ, Kardashian's surrogate will receive $45,000 in monthly installments of $4,500 during her pregnancy. This is a standard fee for an experienced surrogate, said Caballero, who regularly draws up surrogacy agreements. "You don't get more to carry a celebrity's child," she explained. "That is actually the going rate. She may be a second-time surrogate; usually a first-time surrogate is about $30,000 to $35,000."
If Kardashian and West offered any more money, Caballero said, they could attract the wrong kind of person for the job. "Here's the thing," she said. "If you pay a surrogate, let's say who's giving birth for Kim and Kanye, $100,000, that looks like coercion. I mean anybody, you would raise your hand and say, 'Sure, six figures? I'll carry your baby!' And you don't want somebody to come forward like that. You want a woman who has raised her hand and said, 'This is something that I want to do. I have uneventful pregnancies; I love being pregnant. I want to help somebody and give them a baby.'"
Martinez said that celebrity clients sometimes end up paying their surrogacy agencies more, however. "We add a more streamlined process for them," he said, which includes special attention to privacy concerns. Kardashian and West reportedly made a $68,850 deposit to their agency.
What About Extra Perks?
There are other benefits to carrying a child for celebrities, Caballero said. "If [Kardashian's surrogate] wants pregnancy massages, she gets that," she explained. "She'll probably have, knowing Kim, who's very healthy with her body right now, she'll probably have a nutritionist, she may have food service, all organic food. She may even have a chef. She may have a personal trainer come to her house. So she may have all those other perks."
Martinez noted that surrogates can make extra money if they move closer to the celebrity clients. "Some intended parents, celebrities, or other VIPs, will want the surrogate to deliver in, say, Cedars-Sinai in Los Angeles," he said. "Let's say the surrogate lives in Texas. So, they may say, 'Listen, will you be willing to relocate in the last six to eight weeks of the pregnancy? We'll pay for your travel here, your housing expenses, if you need to bring your family, we'll do that, pay for all that and then a bonus on top of that.'"
How Do Celebrity Surrogates Stay Private?
Celebrity clients' chief concern is privacy, Martinez said. Sometimes they will suggest paying their surrogate more to stay quiet about their identities, but Martinez advises against this. "We have to make sure that the women who are doing this understand the gravity of the situation for these people doing it, and that they understand that privacy is key," he explained. "I had a celebrity case recently, and they said, 'Well, can we offer her an incentive bonus that we pay after delivery for her to be private?' And I said, 'Well we could do that, but I really don't think it's necessary, because, one, we've never done that before and, two, we already have these conversations with surrogates about the need to keep it private.'"
Some celebrity clients will stay anonymous in the beginning stages of the surrogacy process, however. Legally, maintaining anonymity for part of the process is doable, Caballero said. Kardashian's surrogate "may not have known that it was Kim and Kanye in the beginning," she explained. "The contract could have a pseudonym, definitely."
Problems arise, Caballero said, when media outlets seek out information about the identities of celebrity surrogates. Sarah Jessica Parker's surrogate, for example, was stalked by the paparazzi when she carried Parker's twins in 2009. "You know, if I was Kim and Kanye, I'd have a bodyguard [for the surrogate]," Caballero said. "I would definitely make sure she's in a secure location, where nobody can find who she is, because there are people who are digging for sure. I really believe that TMZ either knows her name or is this close to finding it out."
So far, TMZ has reported several details about Kardashian's surrogate, including that she is a "registered Democrat," which suggests the site's reporters know her name. "She's a private person," Caballero sighed. "She doesn't have big gates to protect her from the media … She needs to be left alone, but of course she won't be."