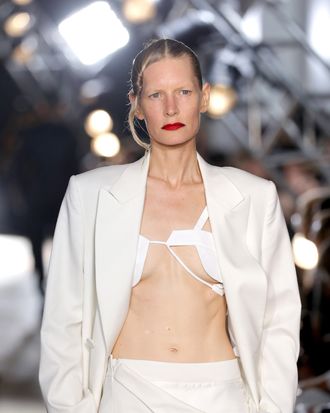 Kirsten Owen on the Runway at Helmut Lang's Seen By Shane Oliver
Photo: JP Yim/Getty Images
Model Kirsten Owen was the face of Helmut Lang throughout its '90s heyday. So when Shayne Oliver, formerly of Hood by Air, debuted his love letter to the brand last night in Manhattan, of course she made an appearance on the runway.
Owen worked with Helmut Lang himself from the early 1990s until he left the brand in 2005. Her look — androgynous, unadorned, capable of making even bad haircuts look good — came to represent a certain kind of grunge minimalism. She's now a part-time farmer in Vermont, but she hasn't left fashion entirely; earlier this year, she walked in Dries van Noten's 100th show.
After the show, the Cut caught up with Owen. As makeup artists raced to wipe off her ruby-red lipstick like a batch of seasoned pit engineers at the Indianapolis 500, she talked about Helmut Lang then and now.
What was it like to walk in the show tonight?
It was a little scary and a little intimidating, but I liked the energy.
What was scary and intimidating?
The outfit was so minimal, and I felt kind of exposed, but I liked that feeling — just going out there and being exposed.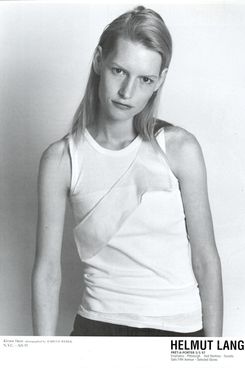 How did this compare to walking in a Helmut Lang show in the '90s?
I would say it's the difference between analog and digital. Do you know what I mean? Helmut used to push me out. I remember standing there in my look, and just feeling this shove, which wasn't aggressive but it was kind of intense. And the energy was just really strong and good, and the clothes were so good and the cast was so good. It was a little bit more intimate than here. I didn't really know anyone, except a couple of people.
What are you doing these days?I'm a part-time farmer now. I love it. I'm working really hard growing fruit.
I hear you're growing blueberries.
Yeah.
What other fruits are you growing?
Aronia. It's actually even more of a superfood than blueberries are. Blueberries are known for being so amazing, but Aronia is way off the charts, though they are quite bitter. They are these beautiful, dark, black berries, and they are really good in mixes, as long as there is something sweet — throw in a blueberry or a strawberry or whatever — and very nutritional. I also have a lot of wild, old apple trees on my farm, and some new plants as well. It's in Vermont, not far from Montreal.
How did you end up walking in this show?
It has not been ten years since I've done a show. I did a show in Paris last season, and the season before. I come to New York pretty regularly so it doesn't feel like like, 'Oh my god, I've just stepped out of the woods.' It still feels familiar.
What did you think of Shayne Oliver's interpretation of the brand?
Well, I thought it was really cool and exciting. It wasn't Helmut, but it was what they are doing for Helmut now. I'm really into it.
Why wasn't it Helmut?
Because the individual take on it was different. Helmut's spirit wasn't there, but it was definitely influenced by him.
Will you work with these guys again?
I hope to. That would be great.