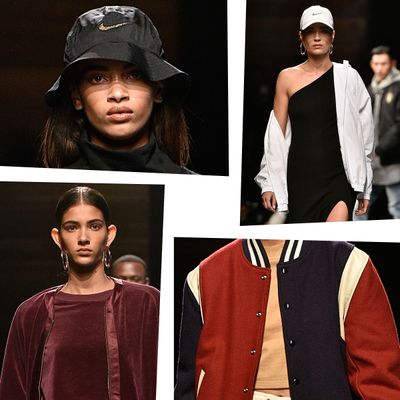 Kith spring 2018.
Photo: Courtesy Kith.
New York Fashion Week has a way of making enthusiasm, in any form, feel utterly uncouth.
But not at the Kith Sport show on Thursday night, where a crowd including Tommy Hilfiger and Virgil Abloh; pro athletes Carmelo Anthony, Iman Shumpert, and Victor Cruz; plus celebrities like Scott Disick, Sofia Richie, Teyana Taylor, and Swizz Beats all showed up early and stayed up late. Lebron James did Kanye West karaoke in velvet sweatpants; clean-smelling boys hugged each other; and hyperbole was made manifest in sneakers and sweatpants.
"This is classic new New York energy," said Abloh, the king of balancing hype and nonchalance, who was in town for his own sneaker launch with Nike and preferred Kith to Calvin Klein. "This is what I wanted fashion week to be like when young kids start getting into the mix," he added. "This is what it should feel like in 2017."
In a word, Kith feels like winning — even if you're not. Hanging above rows of sports bleachers at the Classic Car Club in Manhattan that night were faux–championship banners, which began in 2011, the year founder Ronnie Fieg opened the first Kith store, and progressed each year from county to state to regional, and so on. In September of 2016, Kith made its New York Fashion Week debut, and by 2017, the brand was ready to declare itself a world champion. Some might call this arrogance, but in fashion, that's often what enthusiasm looks like.
"I think Kith is Americana's next generation Tommy Hilfiger and Ralph Lauren," Abloh confirmed without hesitation. "[Ronnie Fieg] is carrying the torch."
Tommy Hilfiger himself agreed. "I think Kith is the next level of lux streetwear," he said. "And Ronnie Fieg is a genius in motion."
So, if you aren't familiar with Kith, maybe it's time you should be. And if you were, like me, but still shy about your enthusiasm for it, now you have permission to lean in.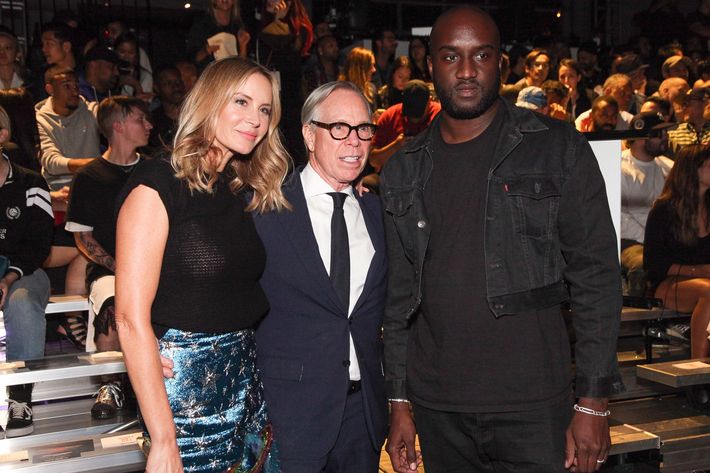 Ronnie Fieg, 35, was born and raised in Queens, New York, and got his start at the age of 13 as a stock boy for the shoe chain David Z. His roots were made clear at the show on Thursday night, which opened with images of street signs spliced with iconic New York movie scenes like Dustin Hoffman screaming, "I'm walking here!" to a taxi driver in Midnight Cowboy.
The spring 2018 collection, which was divided into themed sections, featured 100 looks total with collaborations from Adidas, Bergdorf Goodman, Champion, Moncler, Nike, Virgil Abloh's Off-White, Coca-Cola, and Timberland, to name a few. Not only did it compete with established New York brands scale-wise, but Fieg is also probably one of the only men in the world capable of getting Lebron James, NBA legend Scottie Pippin, and competing brands Adidas and Nike all on the same catwalk.
There was also a new name behind-the-scenes this season: Emily Oberg, a former Complex video reporter turned Instagram star who pivoted to being the Kith Women creative lead in February. She clearly has an eye for what women want right now in a male-dominated sportswear world: High-waisted pants, sports bras as tops, thong bodysuits, and easy dresses that can be worn from day to night.
"Kith is great because it's comfortable," said Sofia Richie before the show. "I love tracksuits; I tell my stylist to go buy every tracksuit possible. You can dress them up; you can dress them down. That's Kith."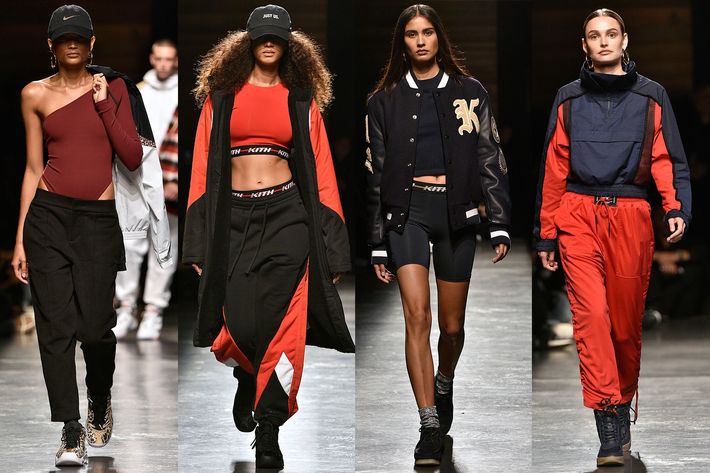 More impressive than the clothes and Lebron James's dance moves, though, is Kith's ambition. Like the crowd of boys and girls who line up outside the brand's stores and at the event Thursday night, Fieg just wants Kith to be a part of the conversation, and will not rest until it starts conversations, too. He wants everyone to love New York and New York style just as much as he does. And if you can win over New Yorkers, you probably can win over the world, too.
In my taxi ride home from Kith that night, a Tommy Hilfiger ad played on the taxi TV while a Calvin Klein billboard drove past on top of another car. It was like one of those classic "New York moments" that Feig had projected earlier. But from where I was sitting, both of these brands had far outgrown their New York roots. Kith still felt like something I could call my own. For now.