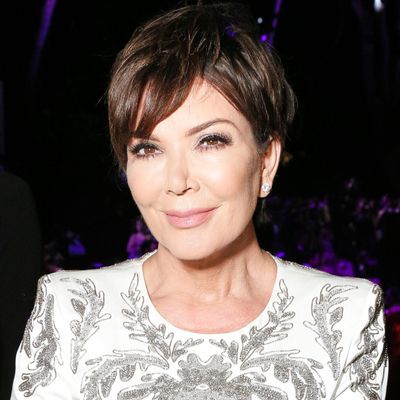 Kris Jenner.
Photo: Matteo Prandoni.com/BFA
According to Kardashian conspiracy theorists, yesterday's Kylie Jenner baby news was perfectly timed to release while everyone on Instagram was distracted by the supermodel finale at Versace (not to mention this weekend's tenth anniversary of Keeping Up With the Kardashians). But not necessarily, if you ask Kris Jenner. The Cut caught up with Jenner this morning in the front row at Bottega Veneta and asked the polite Kardashian matriarch about her vintage Versace collection, Kaia Gerber, and what she knows about the Kylie baby rumors.
Did you know the news was going to break about Kylie?
I just woke up this morning. She's not confirmed anything. I think it's kind of wild that everyone is just assuming that that's just happening.
So, you didn't know that rumor was going to happen?
Something happens every single day. You never know what is going to break at any moment.
What did you think of the Versace supermodel finale?
It was epic, and one of the best fashion shows I've seen in my entire life. I was a huge fan of all of those girls.
Does Kendall look up to them?
I think so. She adores Kaia [Gerber]. They are family friends through Cindy [Crawford]. Over the last few years, we've become friends and have seen her evolve. She looks exactly like her mother, so it's wild. She is such a beautiful young lady with an amazing work ethic, and I think she's going to be just as spectacular as her mama.
But to see those girls walking out — that was such a great show. I was so excited to be there and experience that. And then I got really angry at myself because I don't have some of my vintage Versace that I should have kept. I don't know what happened to it — one of my kids probably took it back in the day. I would have loved to have had that.
What was your favorite vintage piece?
The black and yellow. The wild print. I was a big Versace fan.