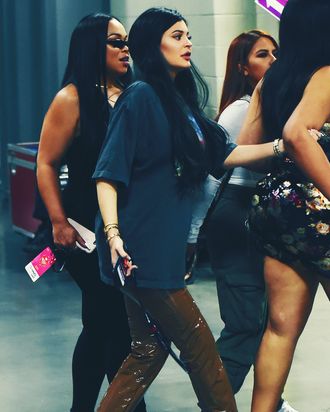 Kylie Jenner at the iHeartRadio Music Festival this past weekend.
Photo: Michael Buckner/Variety/REX/Shutterstock
Welcome to You Know What I Heard, the Cut's weekly celebrity gossip column about the peregrinations of the rich and famous. Have gossip? Email me at allie.jones@nymag.com, send me a message on Twitter, or contact me on Signal (ask for the number).
Despite Kris Jenner's insistence that she "hasn't confirmed anything," the big Kardashian news this week is that Kylie Jenner is pregnant. If you have been living without access to TMZ for the last four days, here are the essential details that have been reported so far: The father is her boyfriend of six months, Travis Scott. She is about five months along. The rest of the Kardashians were "shocked" when they found out, but now they're sooo excited.
Oh, and TMZ reported on the sex of the baby this morning: It's a girl! This is only really interesting because Kim Kardashian will also be having a girl, via surrogate, in about four months. Kim and Kylie could potentially have baby girls with the same January birthday. For more on the insane timing of all of this, please read our Kardashian expert Mariah Smith's unbelievably detailed exploration. (A teaser: Kylie may have accidentally revealed her pregnancy on her own show.)
According to multiple reports, Kylie has wanted a baby for some time and was thrilled to get pregnant. So why hasn't she announced the good news? People reported Monday that Kris is still working on the business plan.
"Kris is just trying to control what she can and make sure no one forgets Kylie is also a businesswoman," a source told the tabloid. "She wants to set Kylie Cosmetics up to sell."
That explains why Kris told Women's Wear Daily in August that Kylie's lip kit empire brought in $420 million in just 18 months.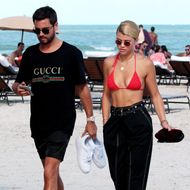 While Kylie's pregnancy news burned through the tabloids this past weekend, several Kardashian associates celebrated at the iHeartRadio Music Festival in Miami. Kylie showed up in a big T-shirt and plastic pants to watch Travis Scott perform. Also in the audience: Scott Disick and Sofia Richie, who are unfortunately dating.
Scott, 34, is the father of Kourtney Kardashian's three young children. Sofia, 19, is the daughter of Lionel Richie. The two were kissing in front of cameras all weekend, which means they are now "Instagram official."
Why is this happening? You'd have to empty Scott's addled brain to get all the way to the bottom of it, but since Kourtney split with him two years ago, he has dated more than one teenager. Sofia, meanwhile, may be trying to make some sort of point to her sister Nicole Richie or to Kourtney or to both.
This all goes back to Justin Bieber. Kourtney reportedly hooked up with him (yep) at the end of 2015. Sofia started dating him in the summer of 2016. Around the time news of the Sofia-Bieber romance broke, Kourtney posted an Instagram photo of her partying with Nicole. (The two have been friends since childhood.) So perhaps Sofia started dating the father of Kourtney's children out of spite? Either way, E! News reported Monday that Scott "takes care" of Sofia, which is what "she loves." Okay!
In much happier relationship news, Prince Harry and Meghan Markle officially held hands at the Invictus Games yesterday. Royal experts take this to mean an engagement announcement is imminent. Markle is not wearing a ring yet, but she sent a blinding signal with her outfit choice for the event. You might think she was simply wearing a white, collared shirt, but according to a press release that hit my inbox last night, she was in fact wearing "The Husband Shirt" by New York designer Misha Nonoo. ($185, here.)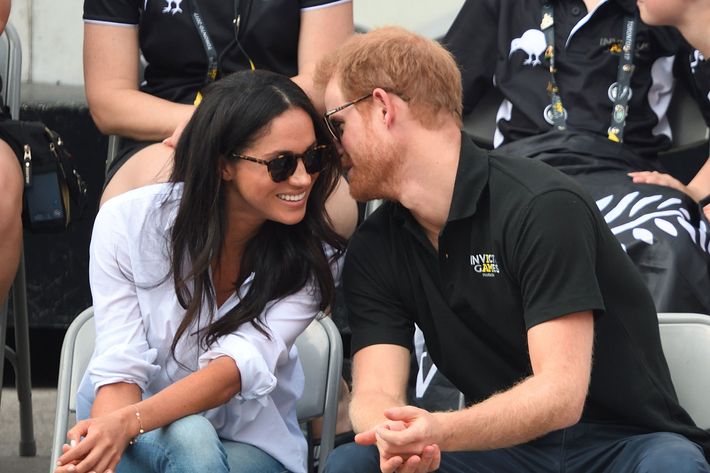 This was not an accident. Nonoo is one of Markle's closest friends. When Markle met Harry for the first time last summer, she was on vacation with Nonoo and Soho House consultant Markus Anderson. Anderson reportedly introduced Markle to Harry, though Nonoo could have done so, easily. Her now-estranged husband, Alexander Gilkes, an art dealer, went to Eton with Prince William and Harry, and his brother dated Pippa Middleton.
Markle sat with Anderson on the first night of the Invictus Games, so it seems like she is taking care to honor the friends who brought her to Harry at her first public engagement with him. I love Meghan Markle!
Small blessings from this week:
Mandy Moore celebrated her engagement. Angelina Jolie posed for paparazzi at the grocery store. Joshua Jackson enjoyed "the single life." Leo DiCaprio dated two German models under the age of 26. Cardi B beat Taylor Swift. Candace Bushnell got a new boyfriend. Luann de Lesseps got "back in the studio." Jennifer Garner went to another farmer's market. (Ben Affleck and Lindsay Shookus stayed quiet.)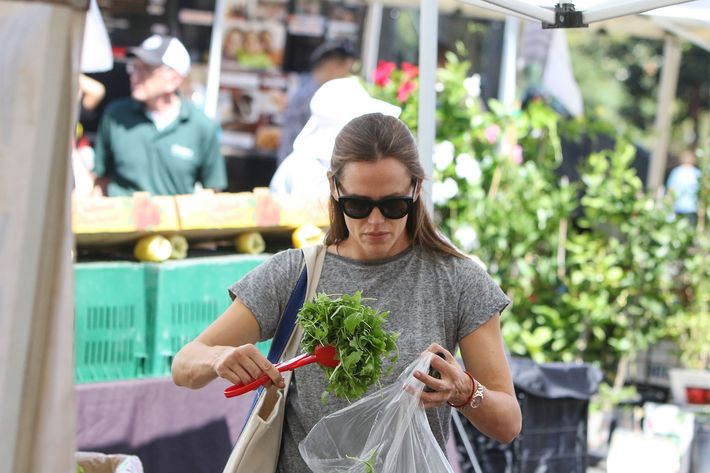 Finally, we ask an influential person, "Where did you last hear a good piece of gossip?"
"Nobody gives me gossip, 'cause they know I will tweet it."
—Spencer Pratt, former star of The Hills, great gossip, excellent tweeter
Thank you all for gossiping this week. Don't forget to email me at allie.jones@nymag.com, send me a message on Twitter, or contact me on Signal, if you'd like to chat.