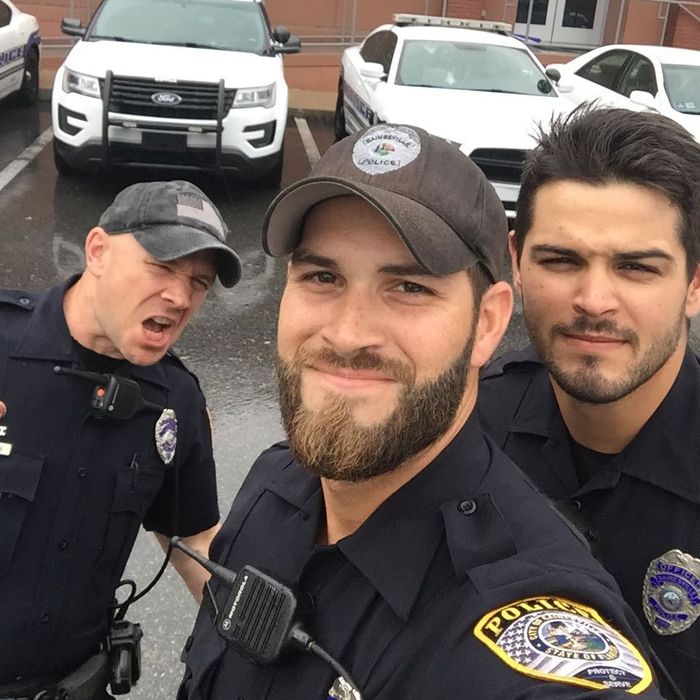 Ladies are horny for these officers.
Photo: Gainesville Police Department/Facebook
Amid the devastation of Hurricane Irma comes a moment of levity: Ladies are apparently out of their mind horny for a trio of hot cops from Florida who were working during the storm.
On Sunday, the Gainesville Police Department posted a picture of three of its officers on Facebook with the caption, "Officers Nordman, Hamill and Rengering…part of the night crew getting ready to do some work. #Irma" But rather than sending cordial messages of support to the officers, women instead posted comments that ranged from horny to hornier.
" …as if Florida wasn't already wet enough," one comment reads. "These guys really change the meaning of the song F@ck the Police…" reads another. A woman wrote, "This pic is exactly why your grandmother always told you to wear clean underwear in case you're in an accident," while another asked, "But who will protect these guys from an impending Cougar attack? #thesecomments." And speaking for all of us, someone wrote, " I never seen breakfast lunch and dinner in the same pic before."
After the thirst began to unfold, the police department posted an update, stating that the cops were loving the comments, that the hot officer on the right ("with the amazing hair") was single, and that he was being put into "Cougar Prey Protective Care, similar to the witness protection program for his safety." They also added an important request: "Please do not call 9-1-1 and request this group respond to your 'incident'."
Ah, the heartwarming power of horniness.