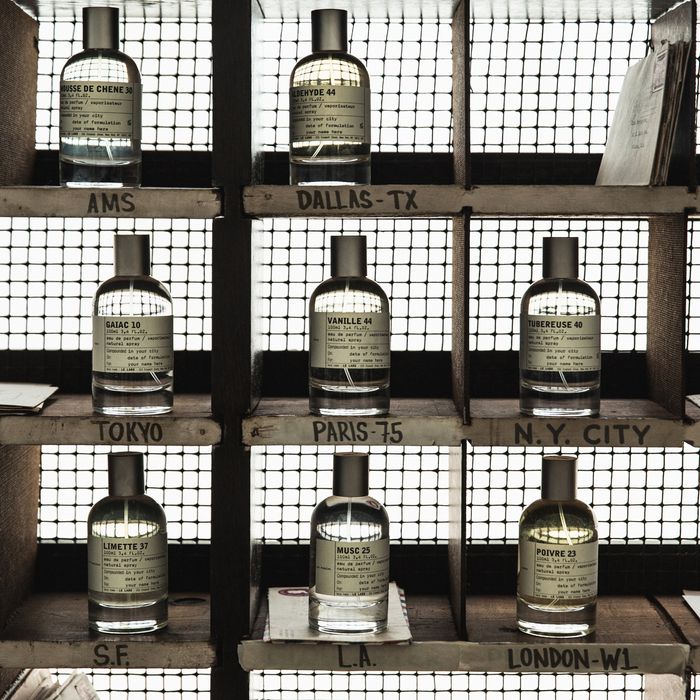 Photo: Courtesy of Le Labo
It took Marco Polo four years to get to China, where he first encountered tea and raw silk, but nowadays, you can order French moisturizer, Middle Eastern za'atar, and Korean sheet masks with the click of a Prime button. Rarely does any brand try to thwart that "I want it now" instinct, but Le Labo makes customers put in the miles for its City Exclusive scents.
If you want to buy the Dubai-inspired Cuir 28 perfume, you normally have to book a plane ticket. For the Leo Tolstoy–inspired scent Benjoin 19, you have to travel to Moscow. The woodsy Gaiac 10 can only be obtained with a visit to the brand's store in the Shibuya neighborhood of Tokyo. But once a year, all eleven of Le Labo's city-inspired scents experience a spring break of sorts — they're permitted to leave their hometowns and experience the world.
For the entire month of September, you can buy City Exclusive scents at any Le Labo store around the world (and even — online.) Tubereuse 40, the brand's homage to New York (and the official hotel amenity scent offered by the Park Hyatt New York) can be purchased in Paris, usually the home of Vanille 44. You can buy San Francisco (Limette 37) in London (Poivre 23). The newest addition to the City Exclusive collection is the Amsterdam-influenced Mousse de Chene 30, a moss and patchouli perfume which the brand calls "traditional yet progressive." For the unfamiliar or unsure customer, there's a sampler pack of all the scents called the City Exclusive Discovery Pack.
All the City Exclusive scents must return to their home country at the end of the month, so their availability is brief. Purists may bemoan the brand's capitulation to modern convenience, but a rose that requires more work to acquire (such as Chicago's Baie Rose 26) smells just as sweet.