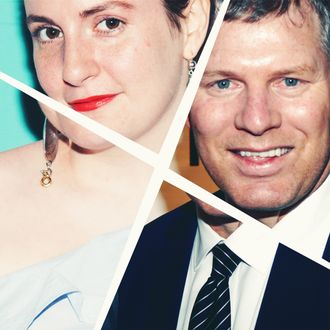 Lena Dunham, Lenny Dkystra.
Photo: Getty Images
Lena Dunham is an actress and writer best known for the hit HBO show Girls and her propensity for oversharing. She also founded the online newsletter Lenny Letter. Lenny Dykstra is a former baseball player known for going to prison for bankruptcy fraud and his propensity for being a general dirtbag. On Thursday night, the worlds of Lena and Lenny (the person, not the newsletter) collided in a bizarre, spectacular fashion on Twitter, when Dunham tweeted that she was "horny for baseball players" and Dykstra encouraged her to slide into his DMs. 2017, baby!
Nails continued to tweet at Dunham throughout the evening, while the world looked on in a mix of horror and confusion.
At least he didn't try to give her financial advice.